Learn how to use your Administrator account.
Overview
Administrators are the core of your experience with ApprentiScope. They allow you
to manage all aspects of your Registered Apprenticeship programs from one place – on any
device. Administrators can manage Occupations, Users (apprentices, mentors &
supervisors), create cohorts of users, conduct performance evaluations, track wages, and much more. Data like time logs, course grades, evaluation scores, wage
increases and more, all flow from your users directly to you, eliminating manual data
entry and making your life much, much easier. ApprentiScope is the hub for your
Apprenticeship program. In the following pages, we will walk you through each feature of your Administrator account and how to use them.
If you have any questions about this guide, feel free to contact us via Live Chat in the bottom right corner of the screen or click here to submit a Support Ticket.


Dashboard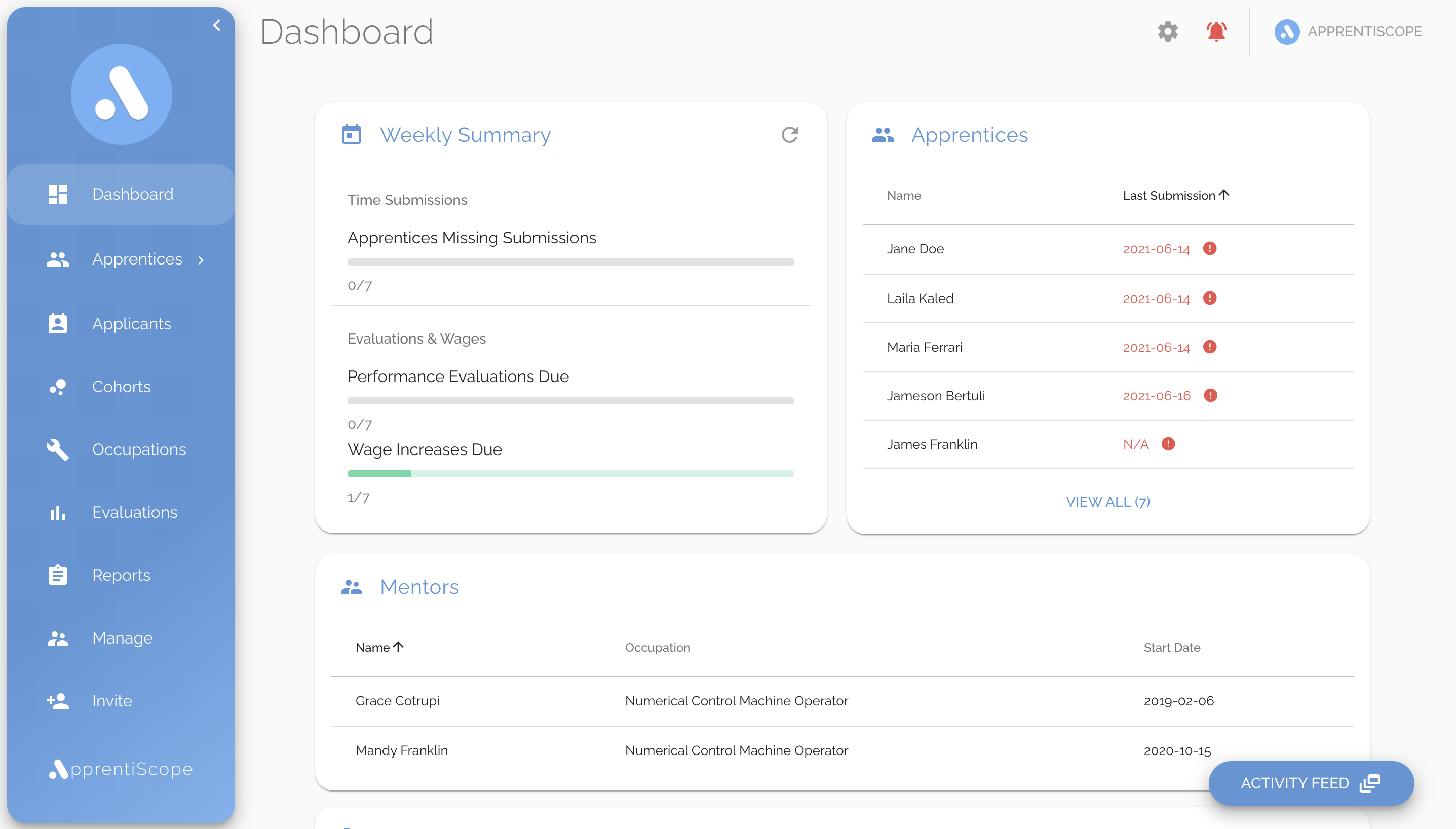 The Dashboard provides an at-a-glance overview of your apprenticeship program. The first card, Weekly Summary, shows you how many of your apprentices are missing time submissions for the week, how many performance evaluations are due, and how many wage increases are scheduled for the current month. The next card, Apprentices, displays a summary of the apprentices who missing time submissions for this week. And lastly, we have a list of mentors that are in your company – organized by occupation.
Toolbar
Notifications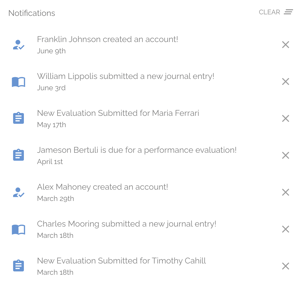 Clicking on the bell icon in the top toolbar will reveal your notifications menu. Notifications provide you with a short summary of what has happened while you were away. To view a notification's content click it or delete it by clicking the X button on the right-hand side.
Toolbar
Account Menu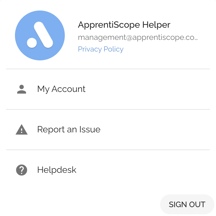 Located in the top right corner of your screen, the Account Menu is where you can view your account information, report issues, visit Helpdesk, and sign out of your ApprentiScope account.
Toolbar
Report an Issue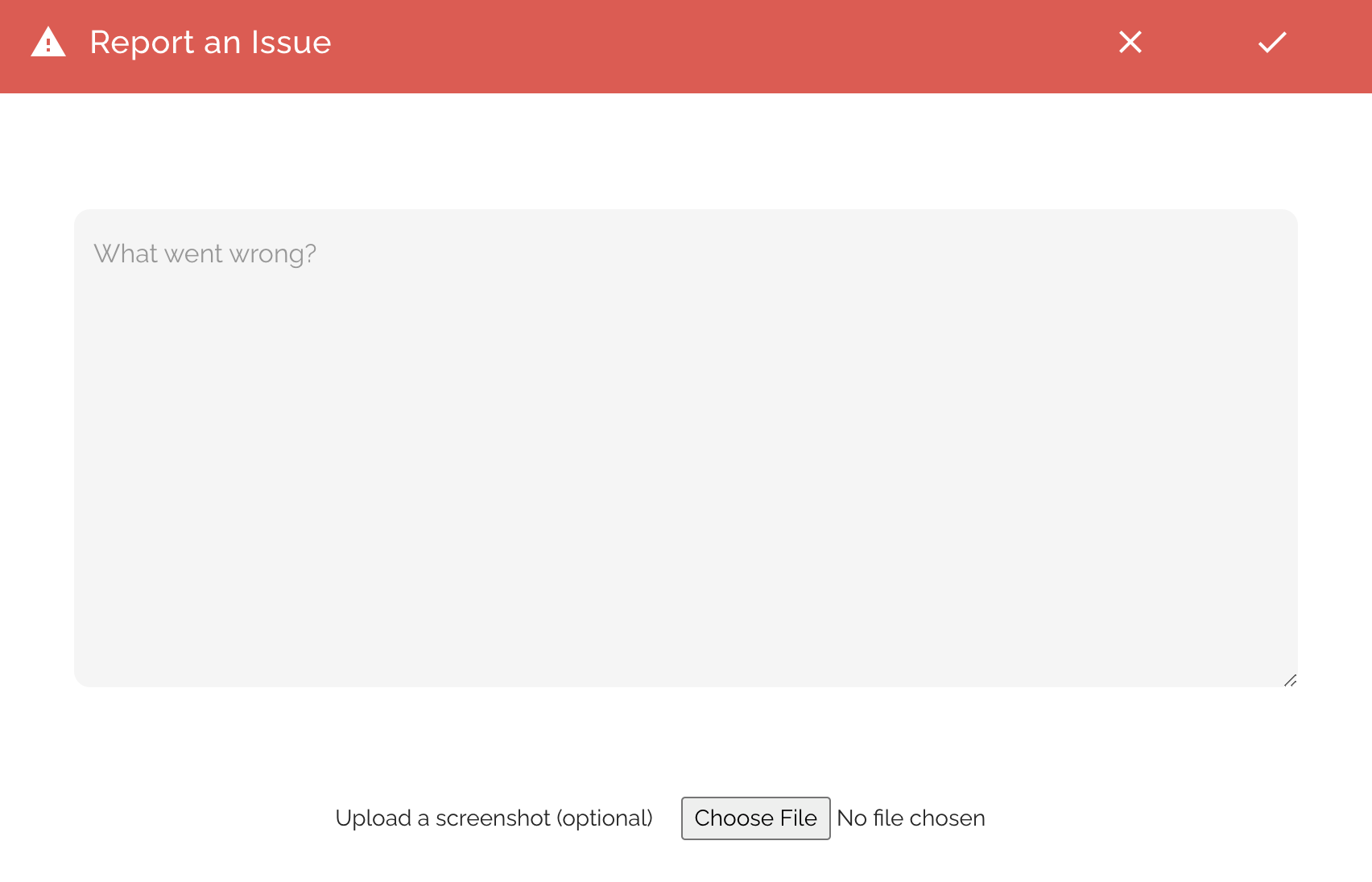 If you run into an issue with your account or something isn't working correctly, we'd love to know about it. To report an issue, click on your Account Menu and select the second option labeled Report an Issue.
Toolbar
Helpdesk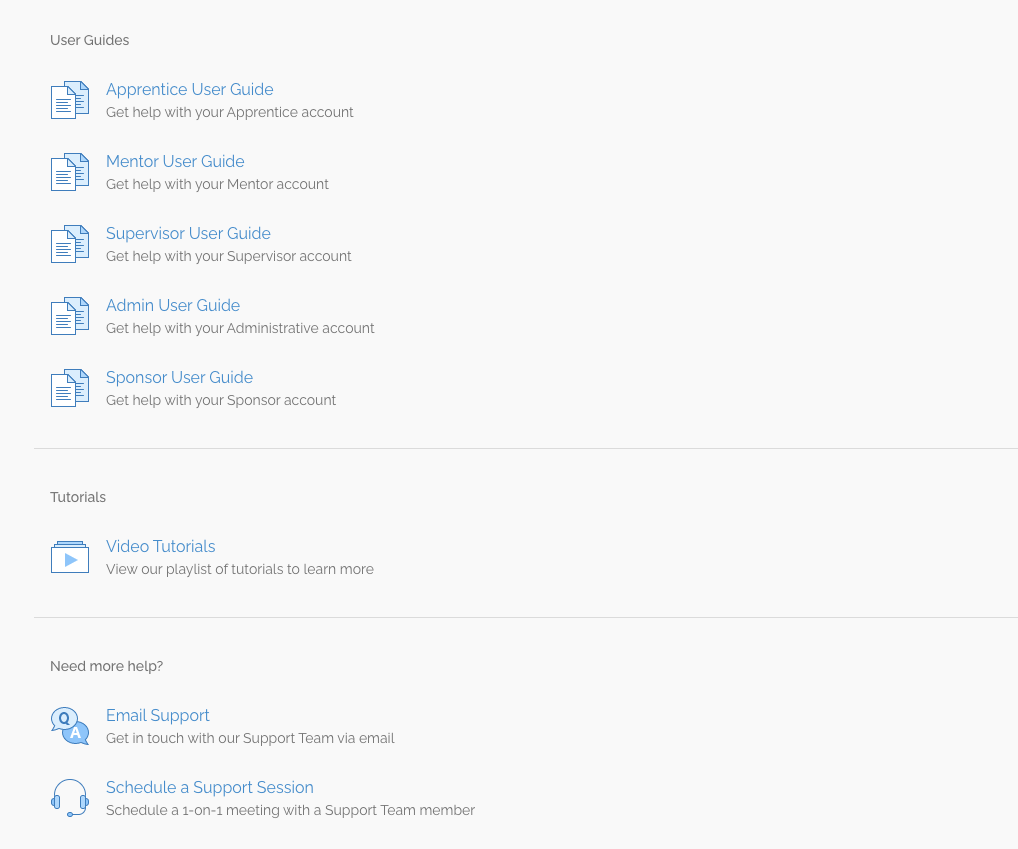 If you need help with your account, visit our Helpdesk by opening your Account Menu and selecting the third option labeled Helpdesk. Here you can view documentation, schedule support sessions, and live chat with our Support Team.
Profile
General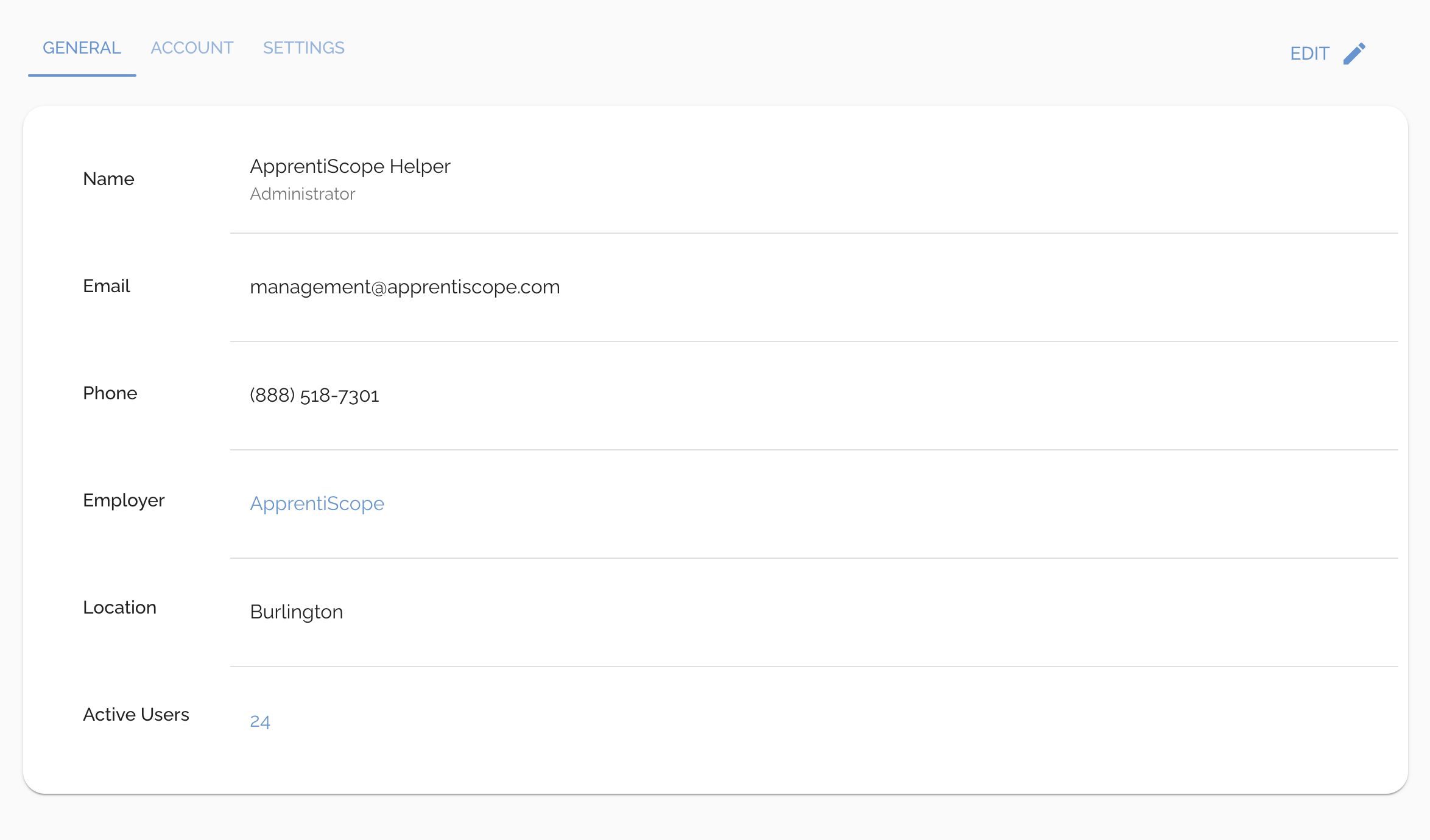 The Profile page is accessible by opening your Account Menu and clicking on the first item labeled My Account. Here you'll find an overview of all the information associated with your account and the ability to change your password, change your profile picture, and manage your subscription. On the General tab, you can edit your information by clicking the Edit button on the top right. If you would like to edit your personal name or location, please contact support.
Profile
Account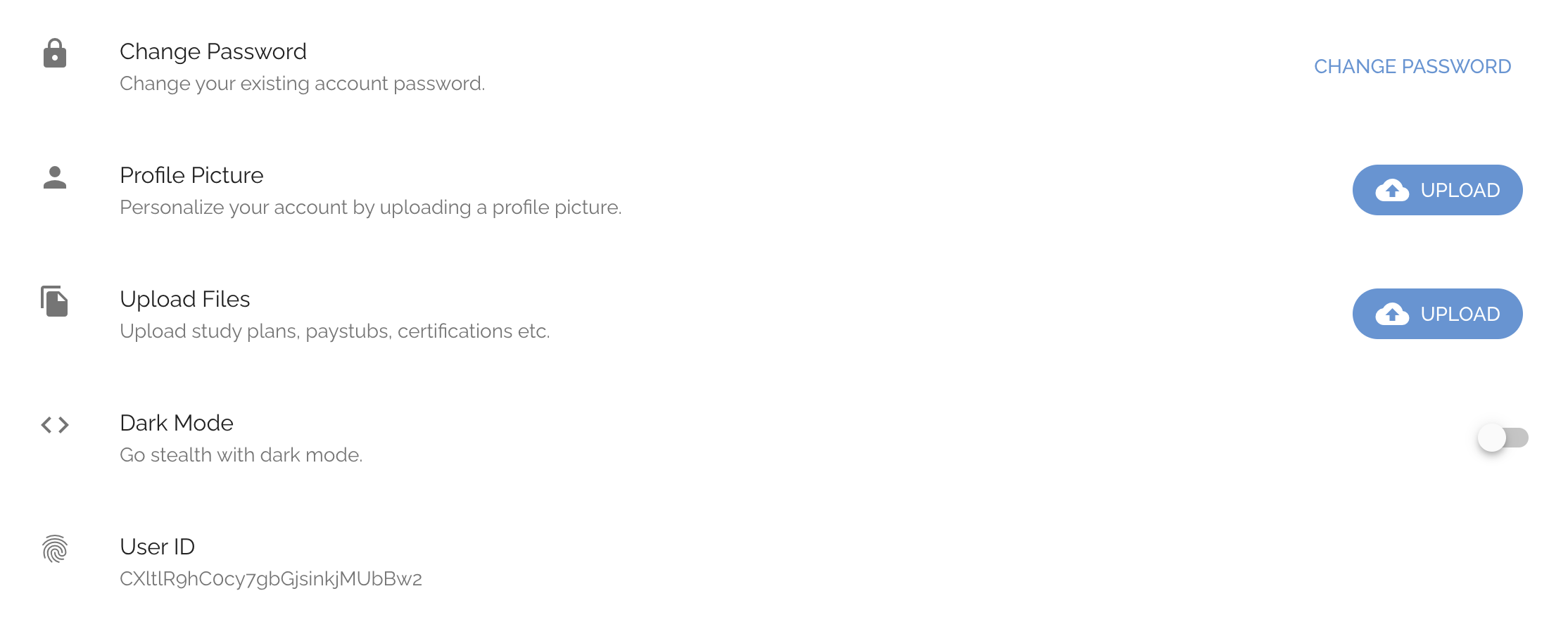 The Account tab is where you can change your password or change your profile picture. To change your password, simply click Change Password and a dialog box will appear, prompting you to enter your old password & new passwords.
Profile
Files

On the Files tab, apprentices can upload documents to their Administrators. Simply click the blue Upload button in the top right corner and follow the instructions.
Profile
Settings

On the Settings tab, you can adjust the look and feel of your account by toggling on Dark mode. More settings are in the works!
Apprentices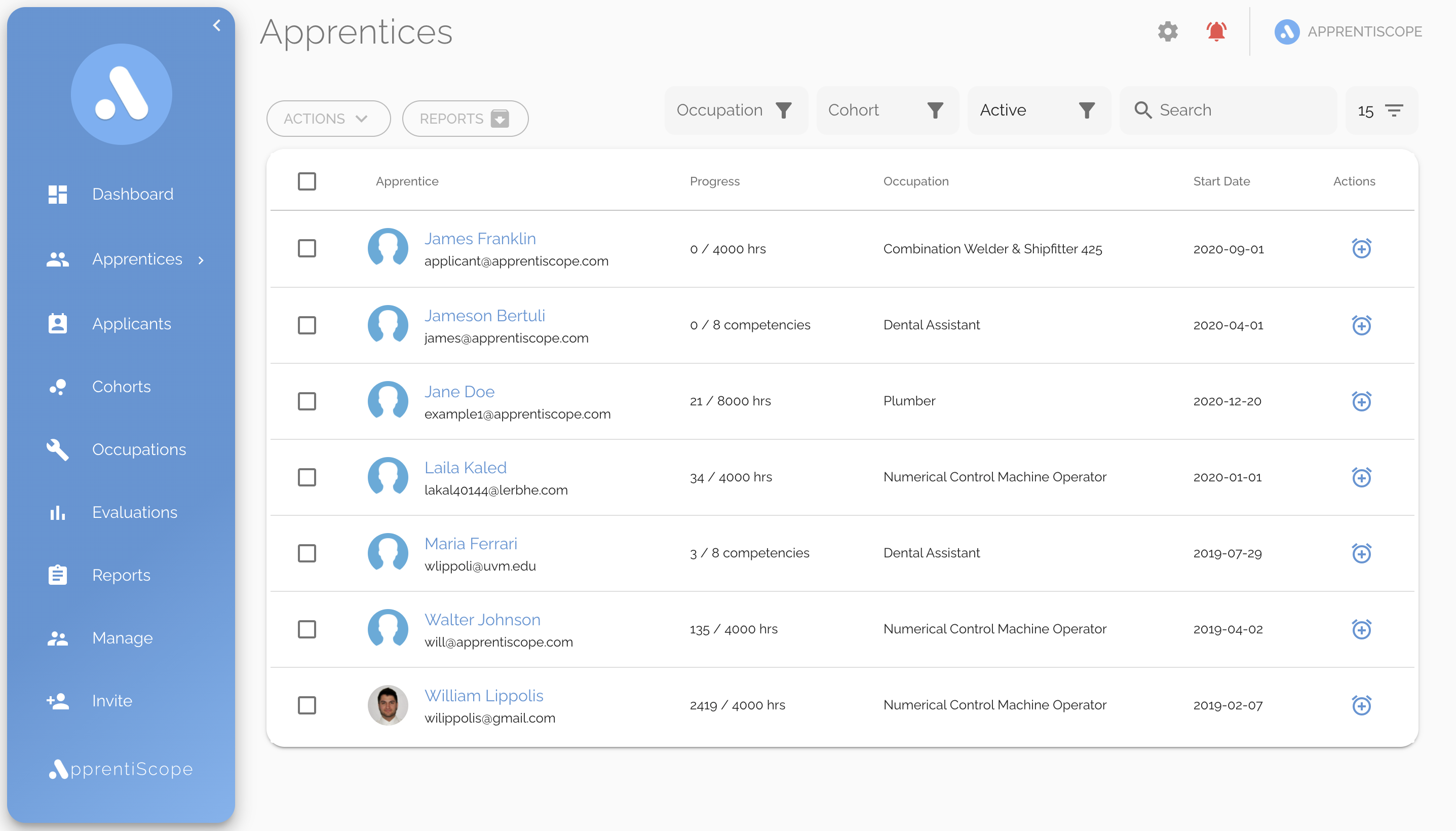 On your Apprentices page, you can view a list of your apprentices, view their overall progress, log hours, and generate batch reports. As of July 1st, you can generate Apprentice Agreements (Form 671 or state-specific agreement), Weekly OJT Reports, and Yearly OJT Reports by selecting apprentices (by clicking their corresponding checkbox) then clicking the Download Reports button.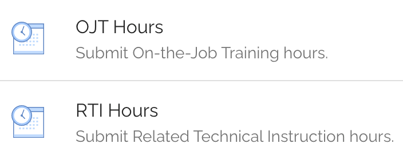 To log hours on behalf of an apprentice, simply click the clock icon on the right-hand side of their item card shown above.
Applicants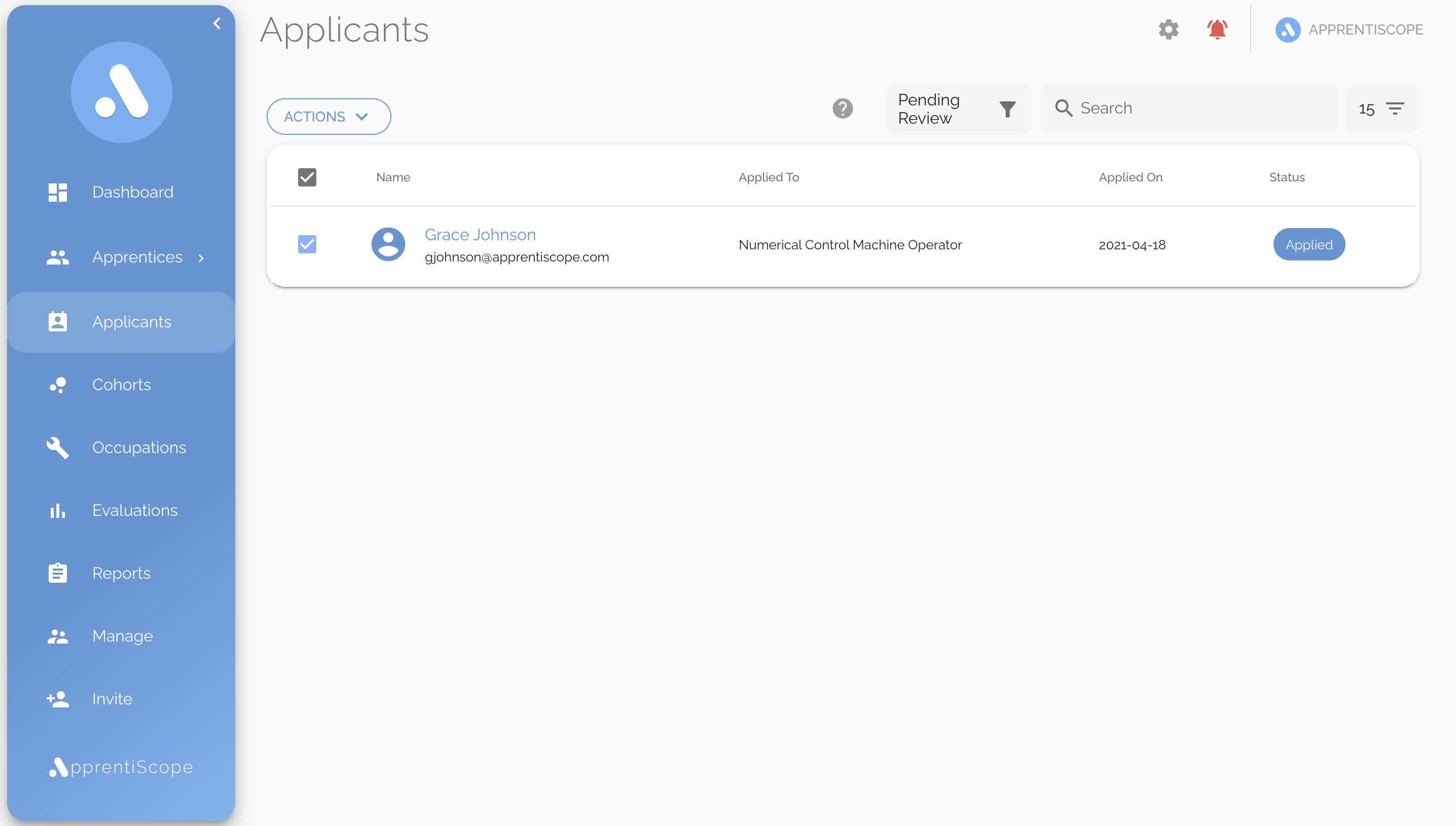 On your Applicants page (if applicable), you will be able to review applicants that your Sponsor/Intermediary has submitted for your approval. To view applicant details, simply click on their name and you will be brought to their Profile Details page where you can review their experience, documents, and resumes.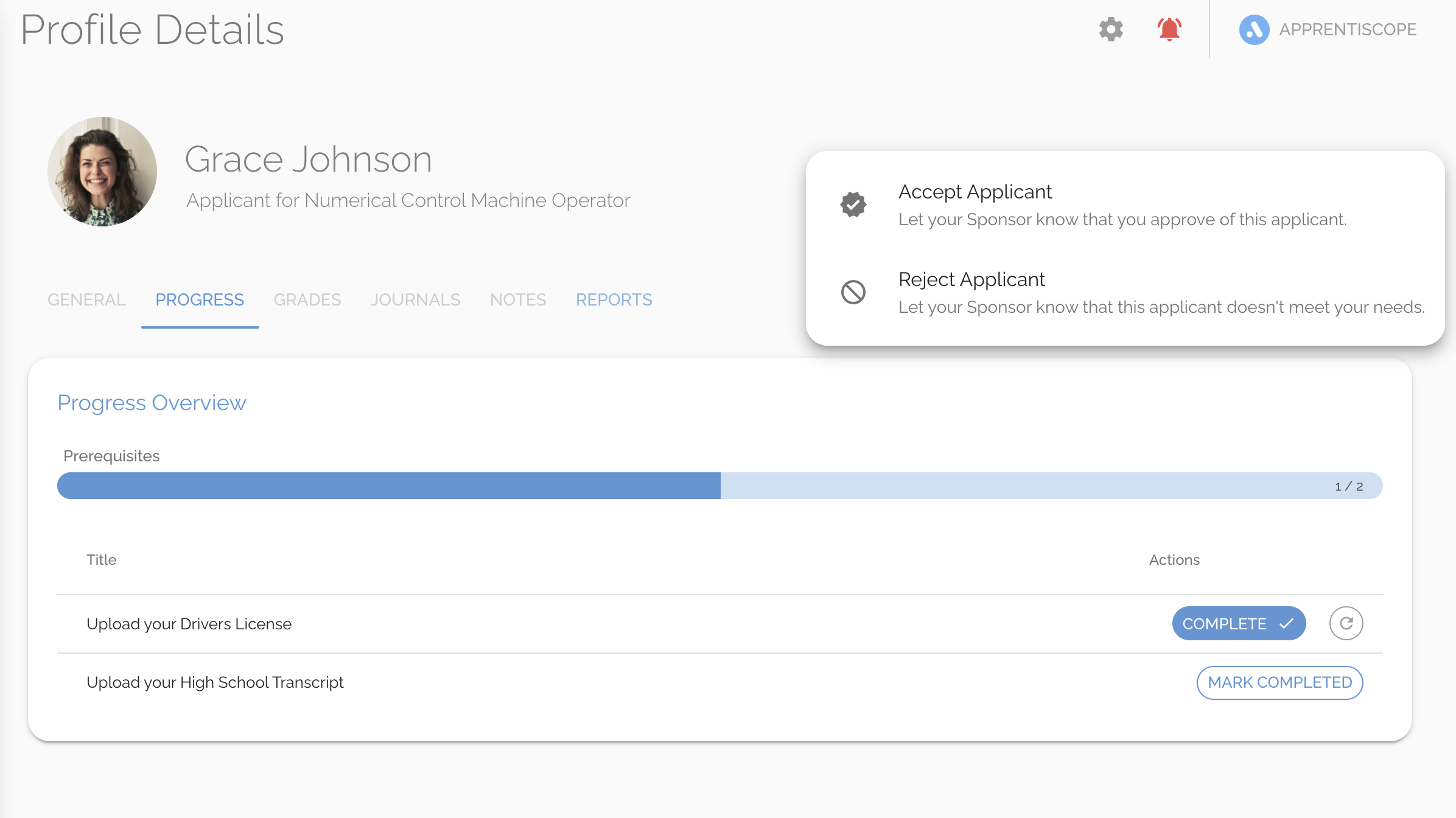 If you like what you see, you can let your Sponsor/Intermediary know by clicking the blue Actions dropdown on the Profile Details page or back on your Applicants page and selecting Accept Applicant or vice versa to Reject an applicant.
Weekly Summary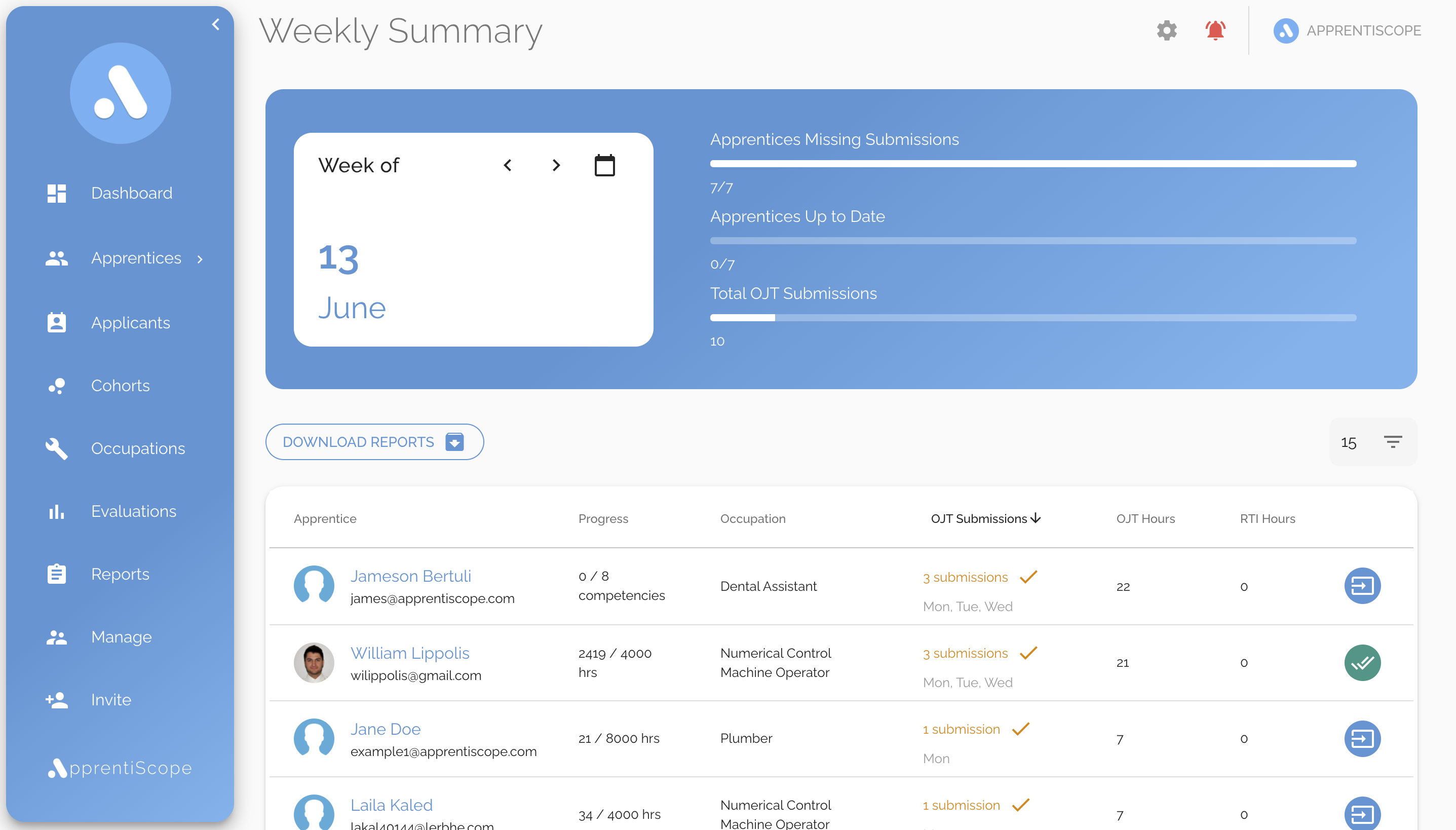 On the Weekly Summary page, you can view an in-depth breakdown of your apprentices' completion for the current (or past) week. On the right-hand side of each item, you'll see a button. If the apprentice has submitted time for the current week, you'll have the ability to view/edit/approve their hours by clicking the double-check button but if they haven't, you can remind them by clicking the email button.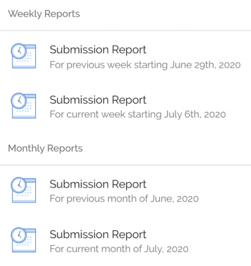 If you'd like to generate a report (PDF) of the weekly or monthly summary, simply click the Download Reports button and select the desired report
Journals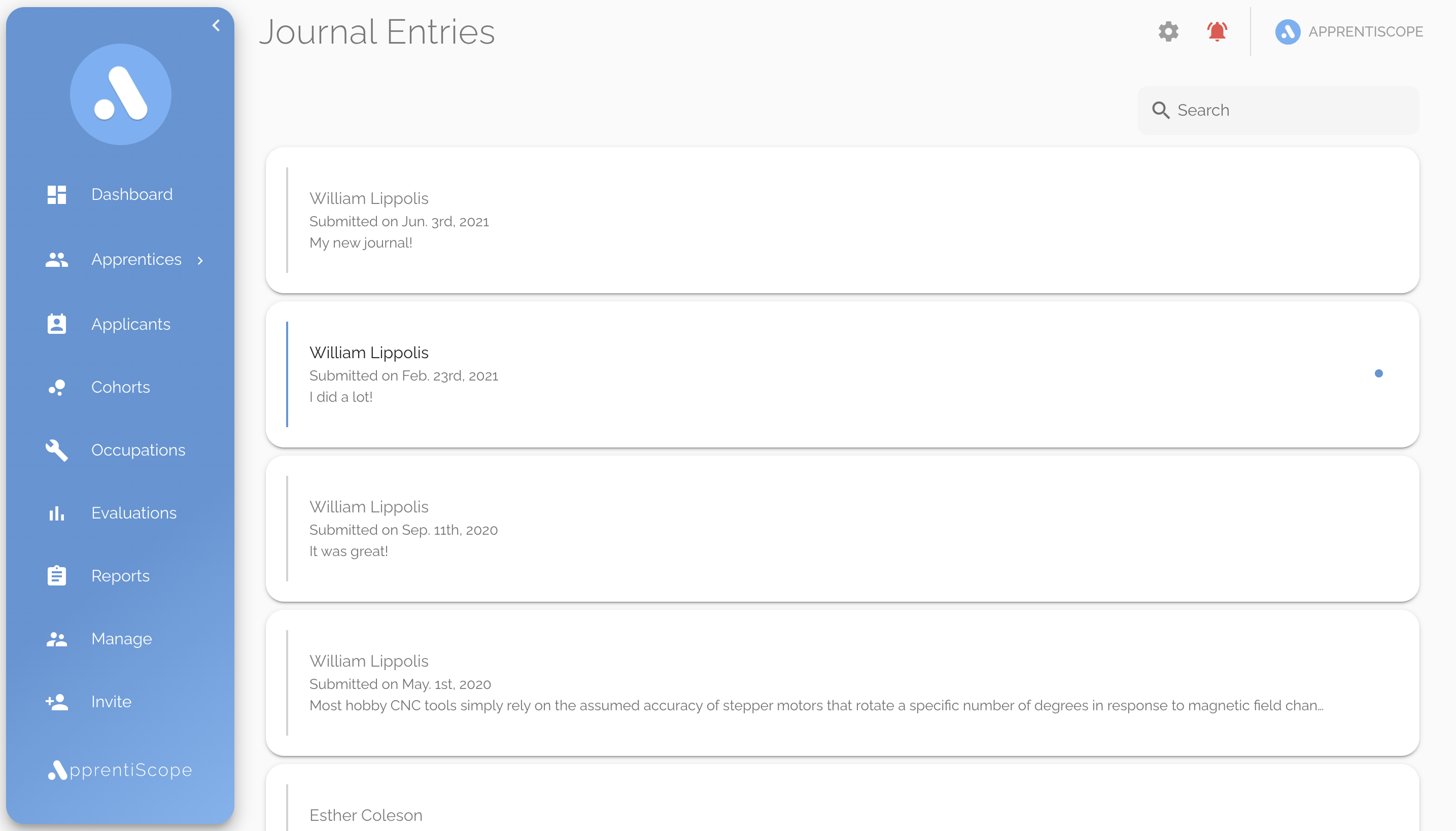 On the Journals page, you can view all of the journals that your apprentices have submitted to you, ordered by the date they were submitted. To view the journal in more detail or to leave comments on them, simply click on the journal. That will take you to the Journal Details page shown above, where you can send messages to your apprentices.
Performance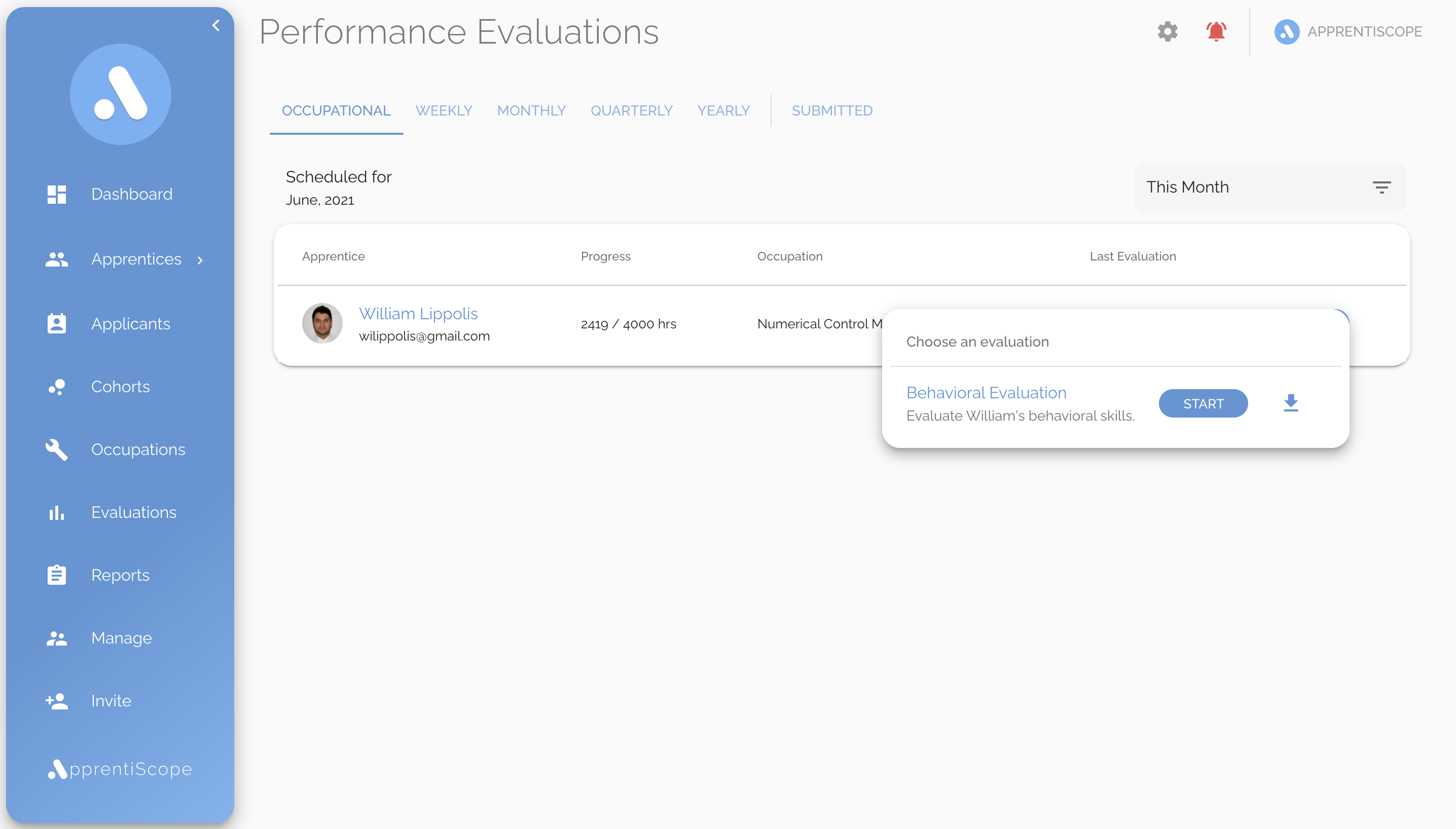 Once you've set up your apprentices' evaluation schedules, apprentices will start to show up here when they're due for an evaluation. To evaluate an apprentice, click the blue Start button (shown above), select the evaluation you would like to conduct, and then fill out the evaluation (also shown above). When you've finished filling out the evaluation, simply click the blue Submit button located in the top righthand corner of the dialog box.
Wages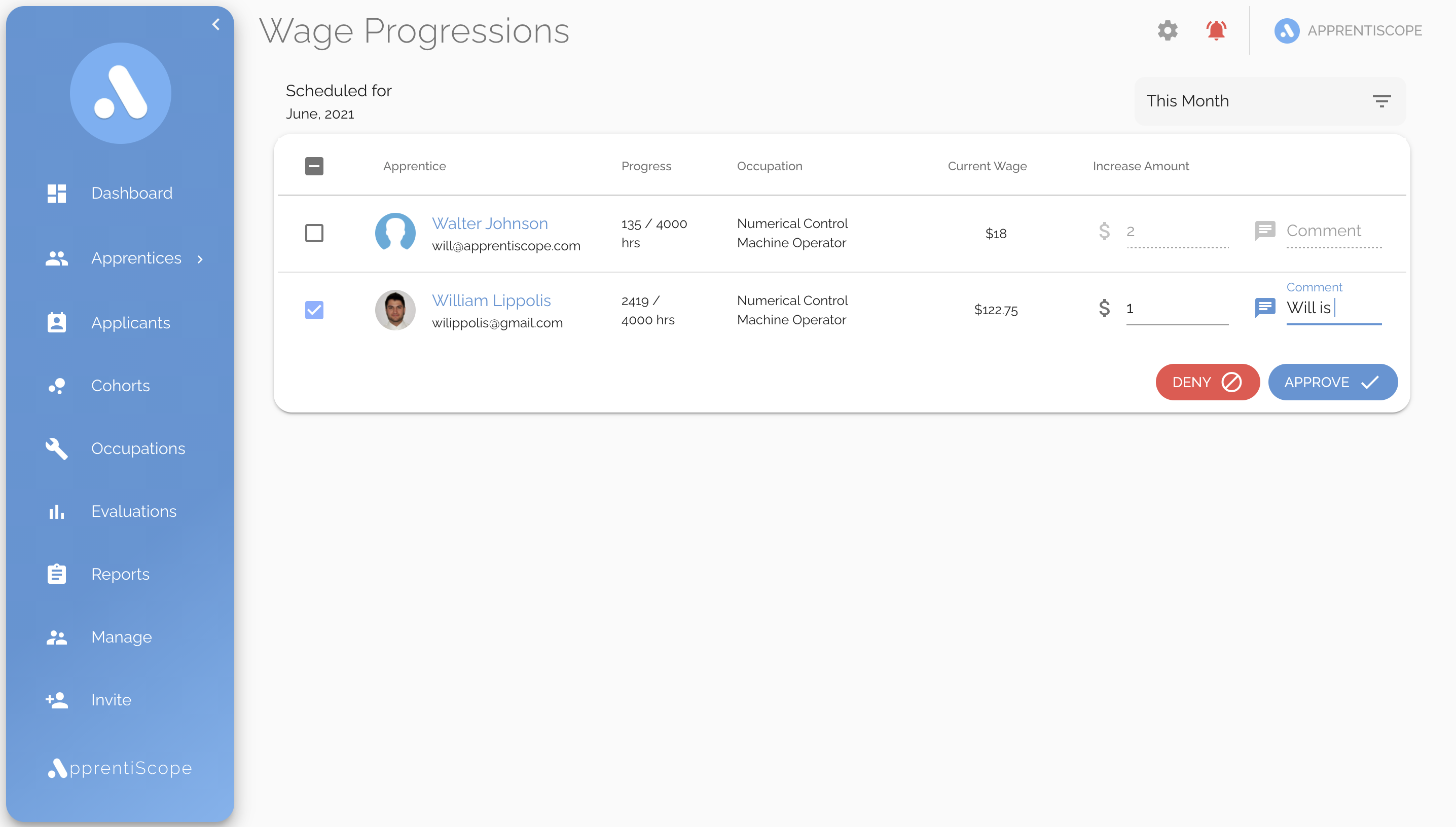 Once you've set up your apprentices' wage schedules, apprentices will start to show up here when they're due for a wage increase. To approve or deny a wage increase, click the check box for the desired apprentice (shown above) and double-check the increase amount. If you want to change the increase amount, go ahead and do it now. When you've decided on the increase amount, simply click the blue Approve or Deny button located in the bottom right-hand corner of the screen
Cohorts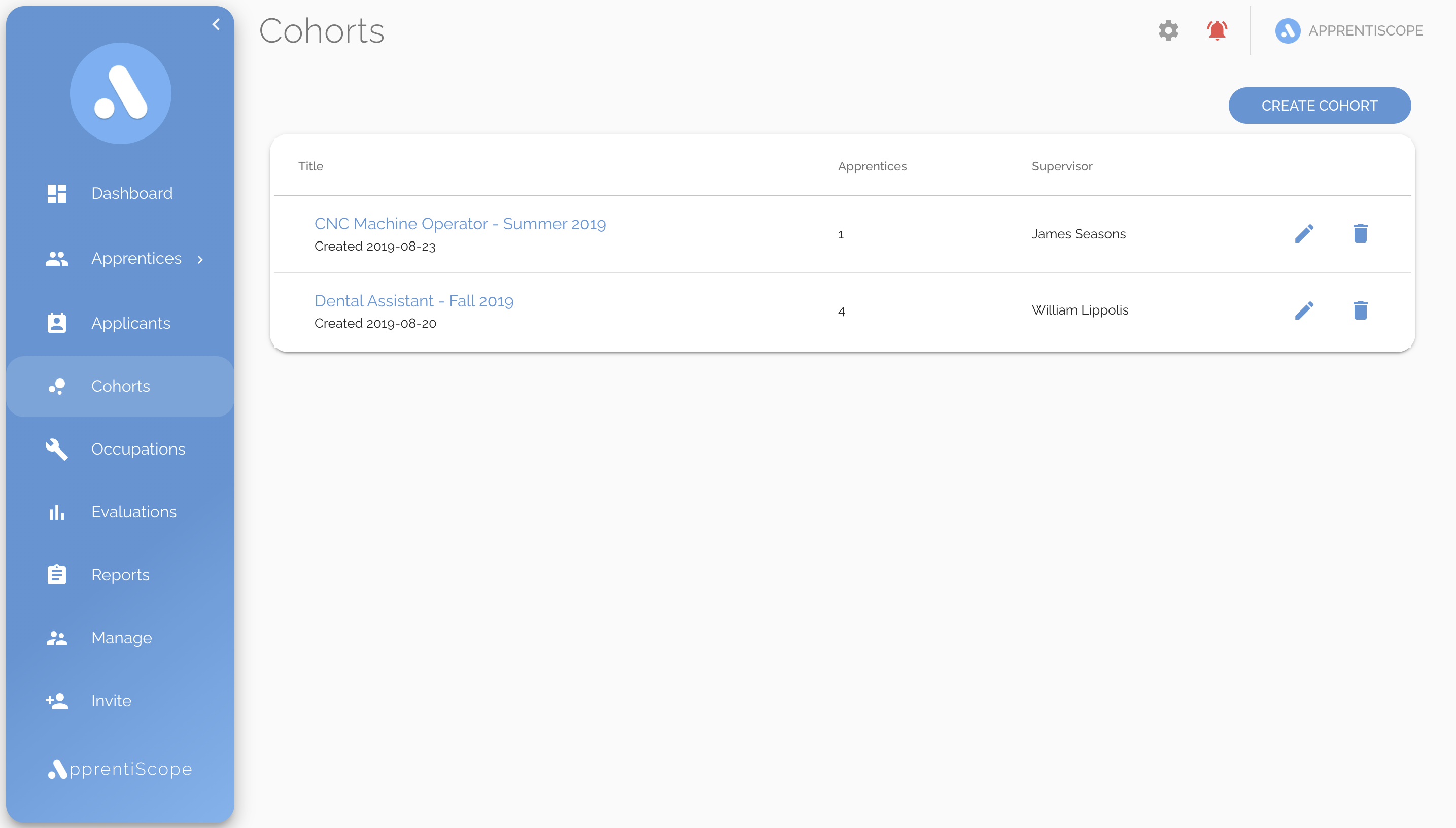 The Cohorts page allows you to create cohorts to track apprentices in greater detail. Cohorts are optional but are commonly used across multiple industries to group and track apprentices that start an apprenticeship at the same time.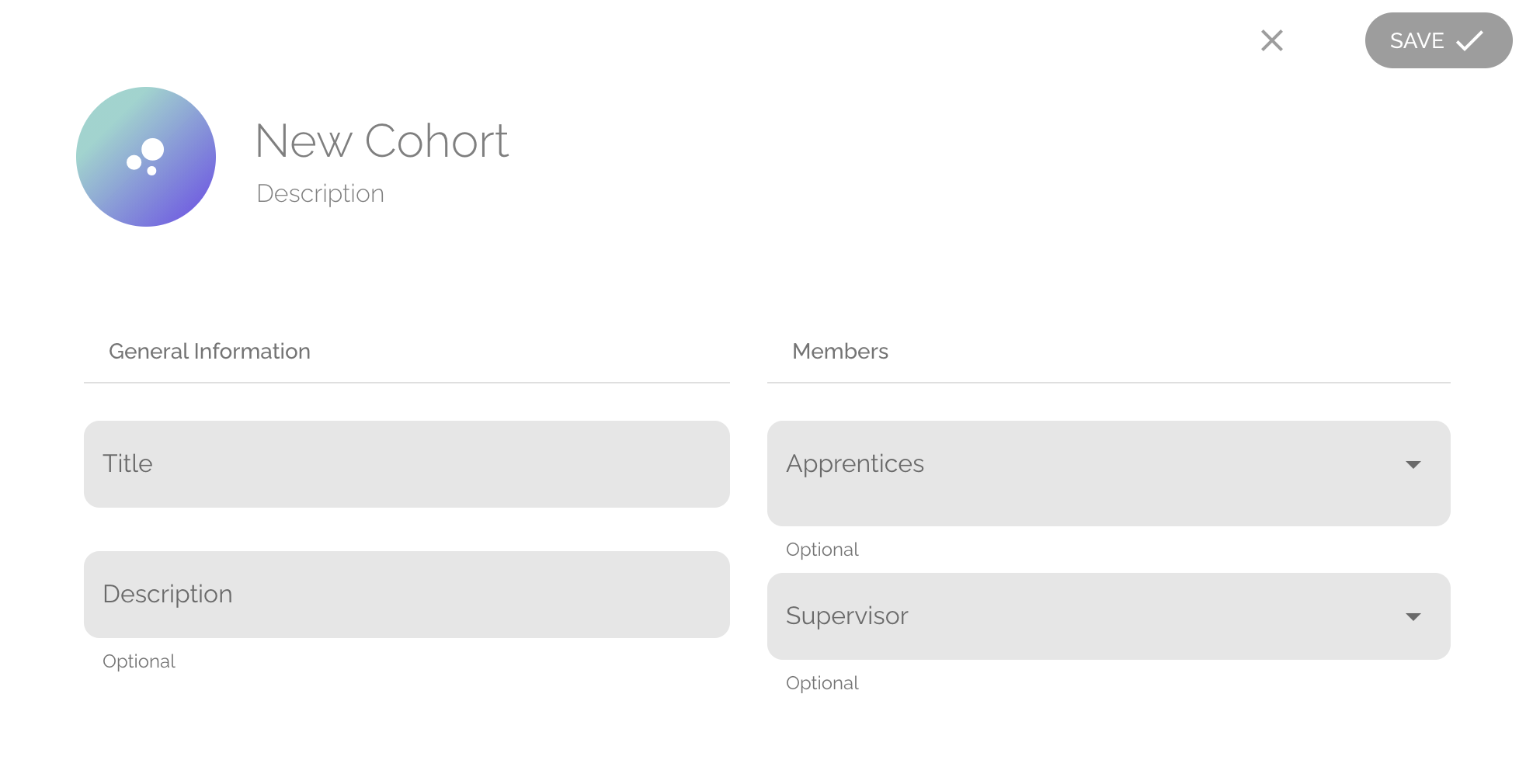 To create a new cohort, click the Create Cohort button in the top right-hand corner of the screen, as shown above.
Cohorts
Details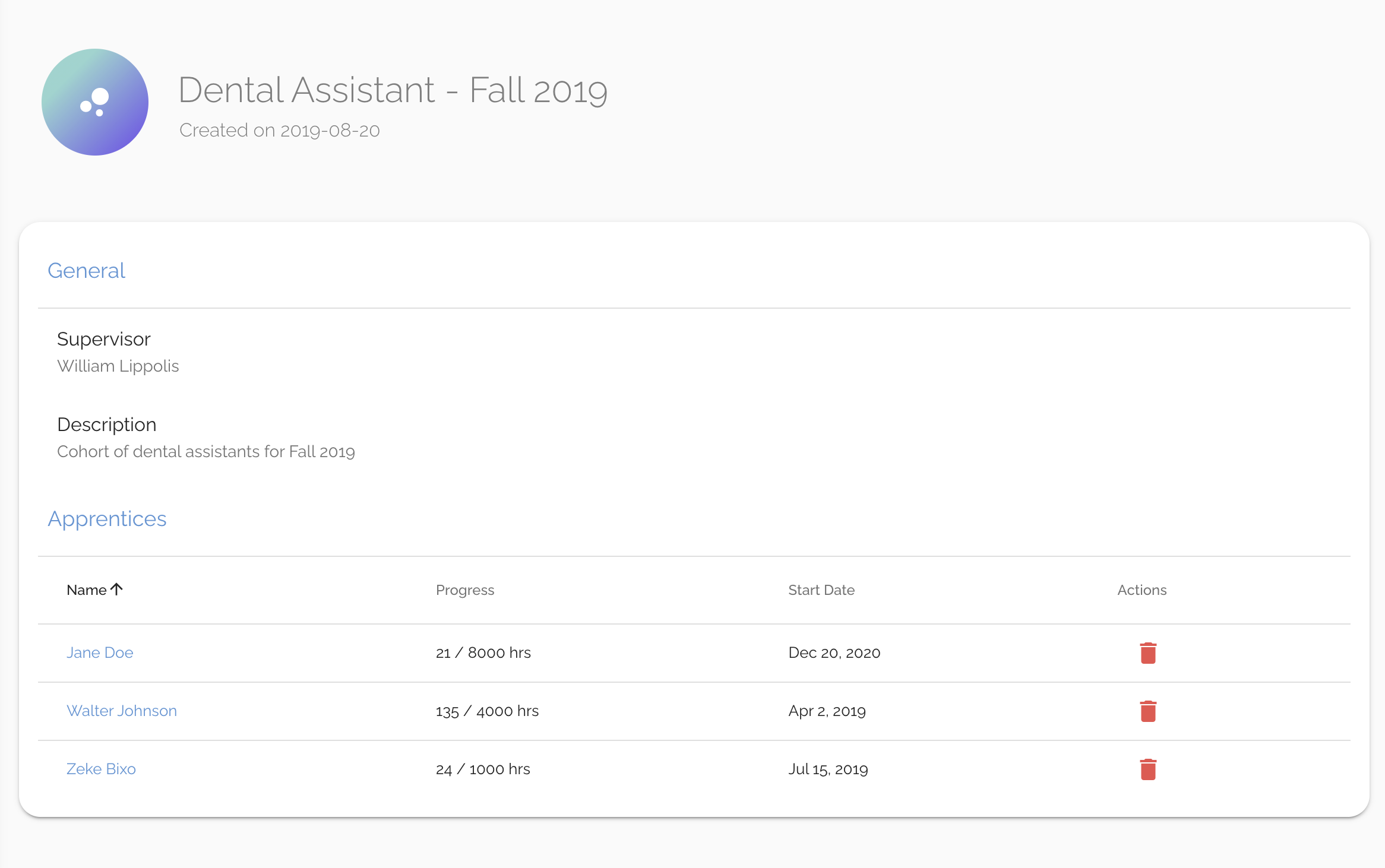 To view the details about a given cohort, click on the title of a cohort on the Cohorts tab. Here, you can view or remove apprentices from the cohort you selected.
Occupations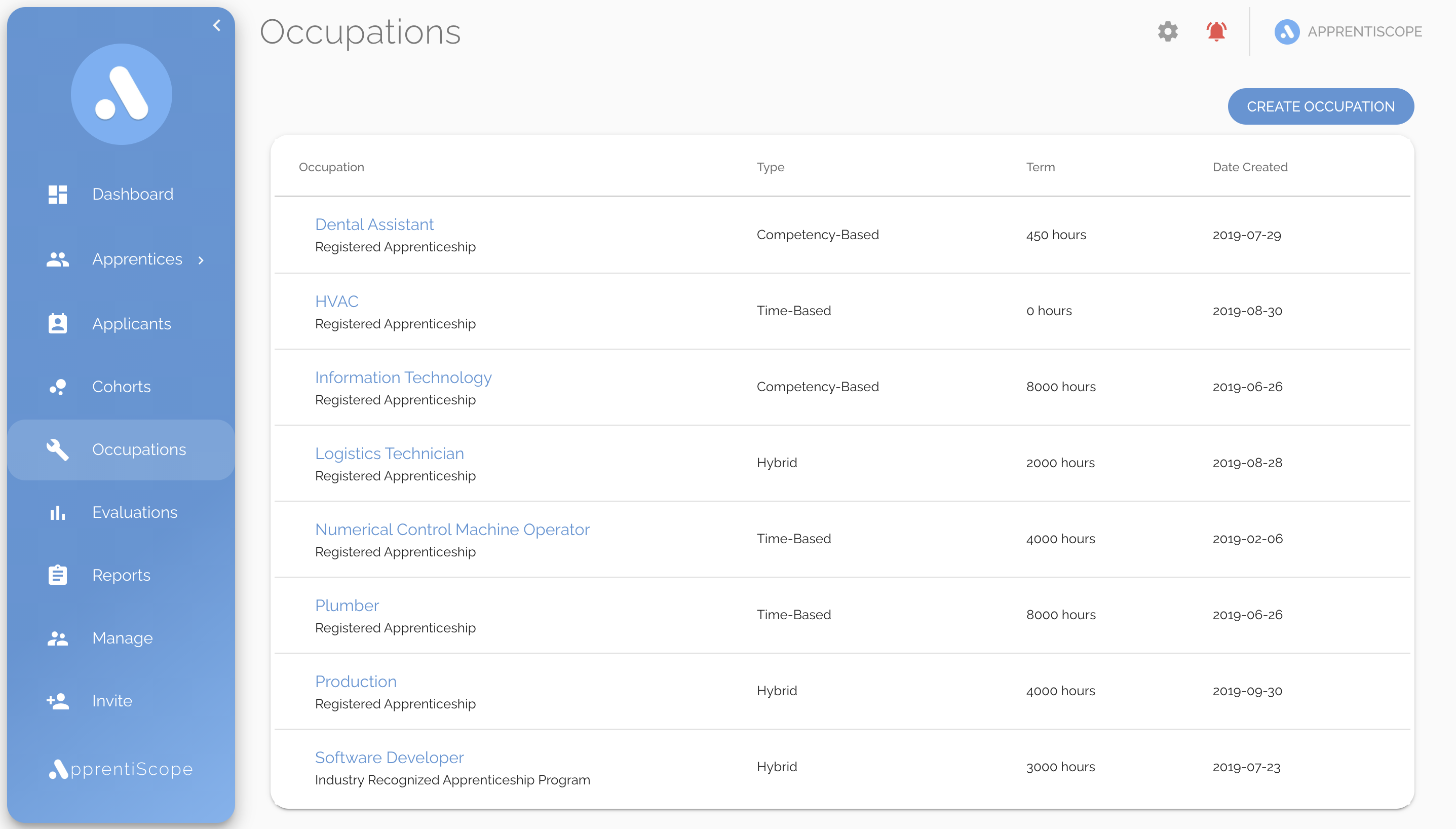 The Occupations tab allows you to manage all of your apprenticeship occupations in one place. You can add new occupations or edit existing occupations here. To create an occupation, click the Create Occupation button in the top right-hand corner, then follow the directions shown.
Evaluations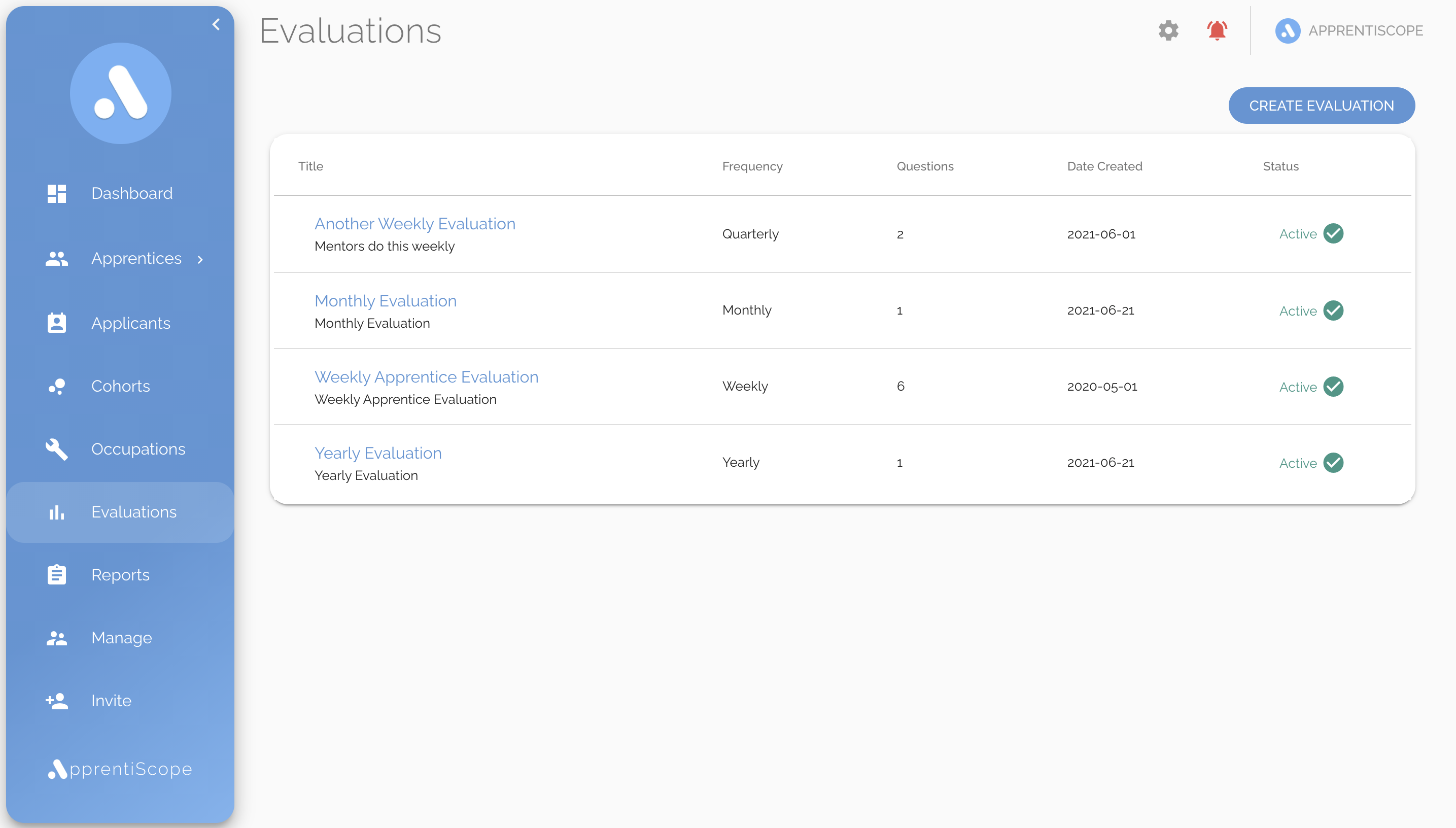 On your Evaluations page, you'll be able to create and schedule custom performance evaluations for your apprentices. To create a new evaluation, click the Create Evaluation button located in the top right-hand corner as shown above, then follow the directions. Once you have created a custom evaluation, new sections will open up on your Performance tab for the corresponding scheduling interval (Weekly, Monthly, Quarterly, and Yearly).
Reports
Standard Reports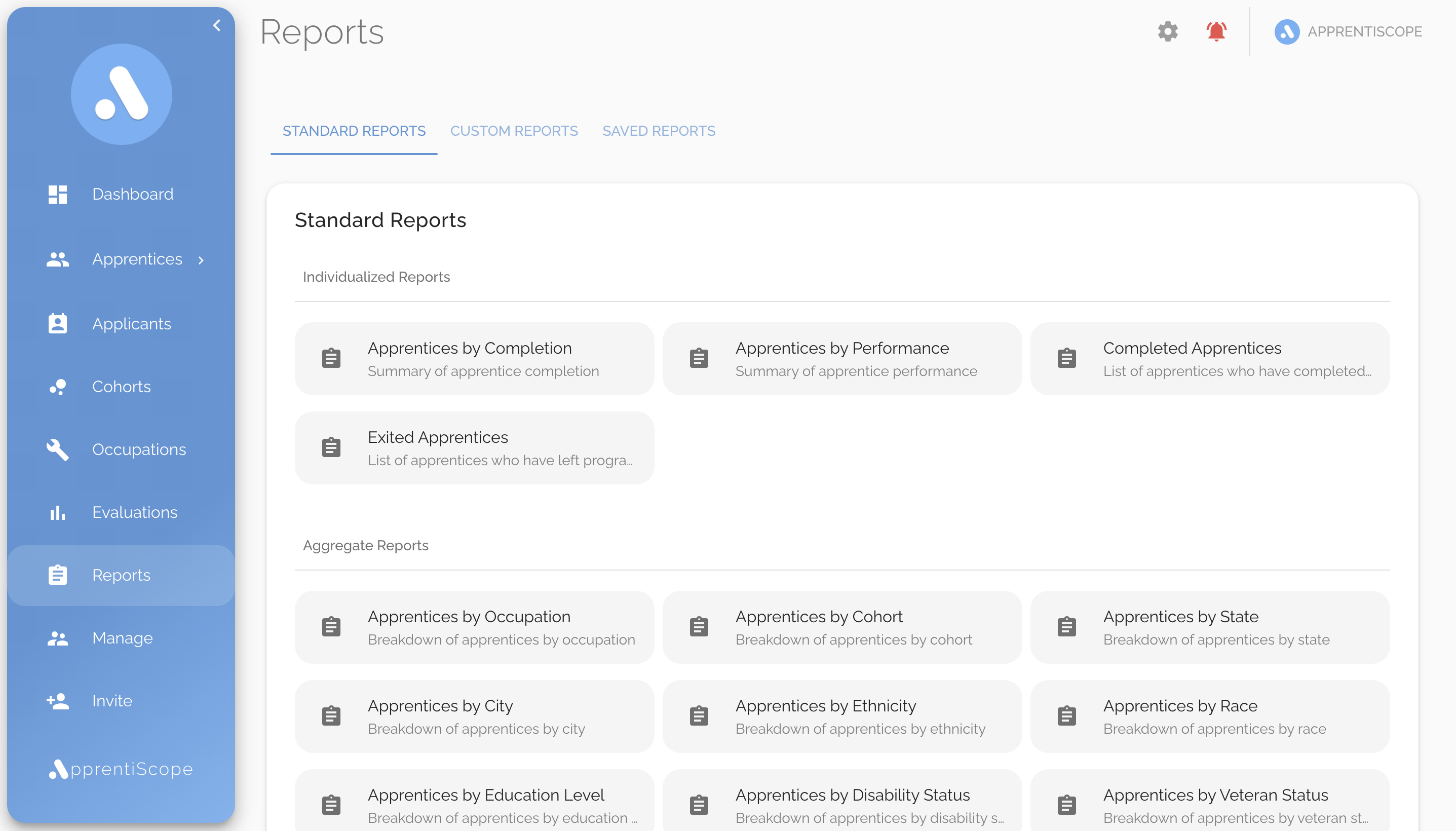 Your Reports page is split up into three tabs: Standard Reports, Custom Reports, and Saved Reports. The first of these tabs, Standard Reports allows you to quickly run pre-made reports. Simply click the report you'd like to run, and it will execute and display the results as shown below.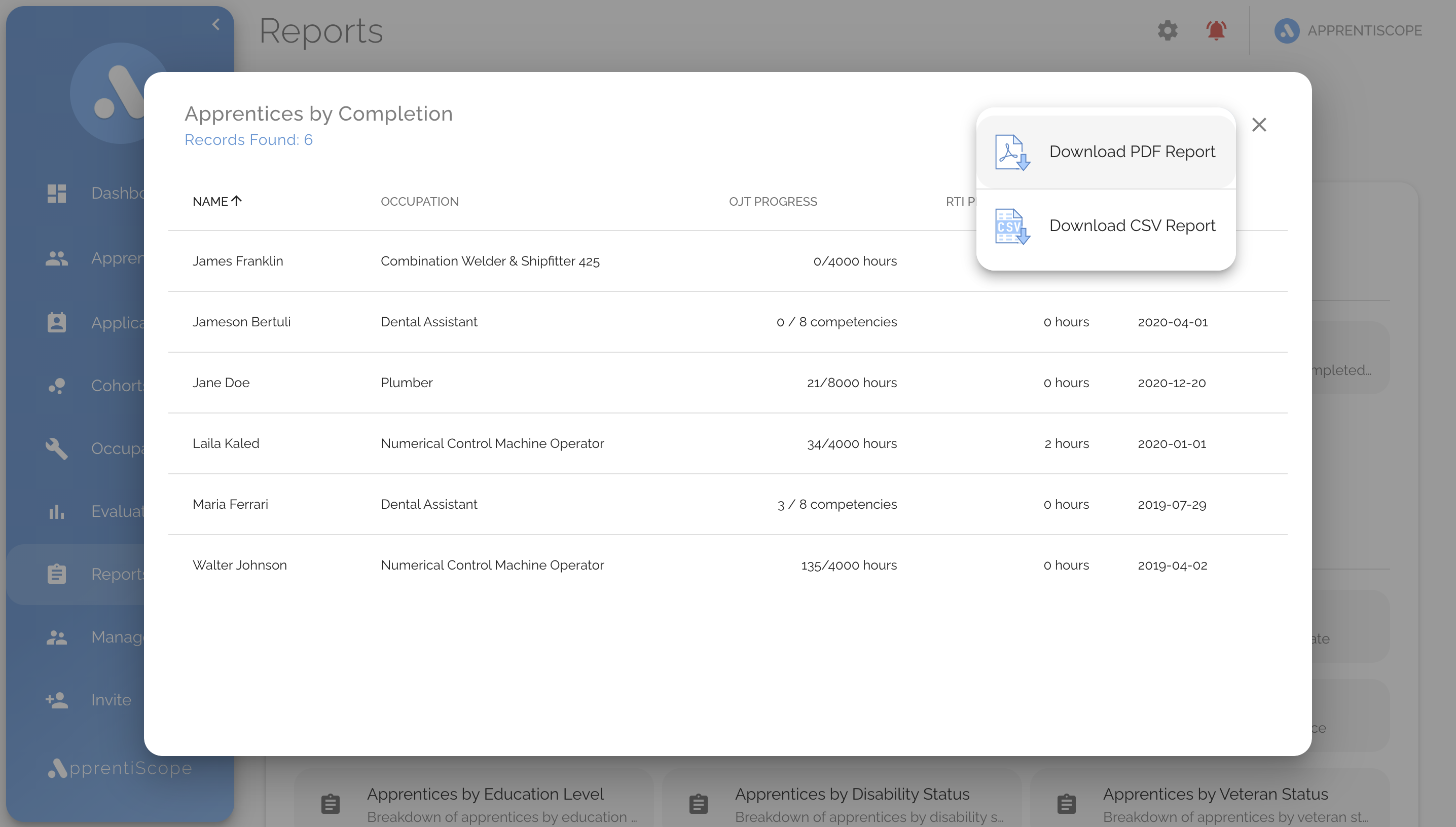 Once your report has run and presented its results, you can view the results in a scrolling list, or download the report to PDF or CSV files. To download, simply click the Download button in the top right corner of the dialog box, then select the file format you'd like to download.
Reports
Custom Reports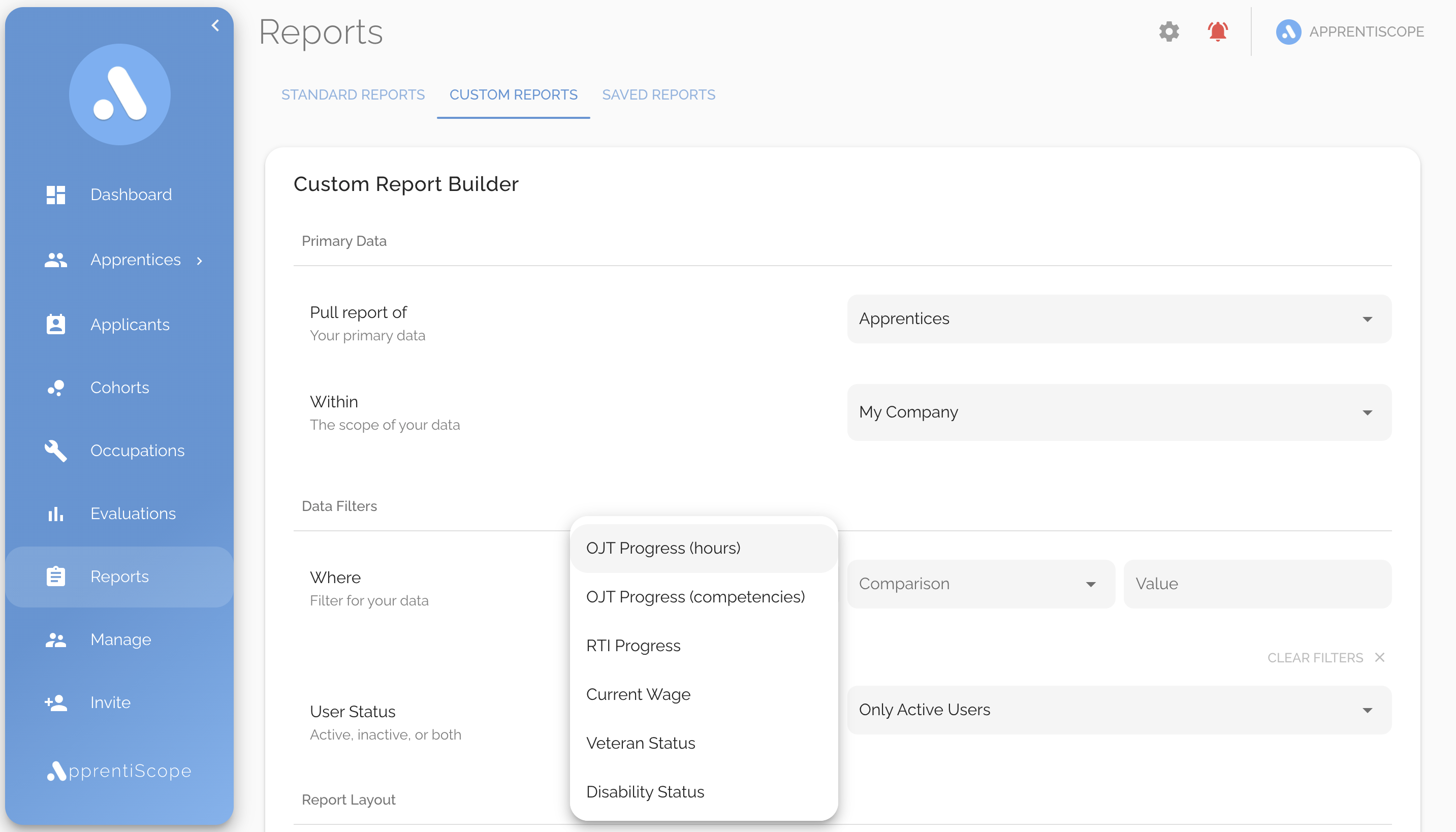 If you want to pull a more specific report, navigate to the Custom Reports tab. Here you can build your own report by choosing your primary and secondary data sets, then filter your results by field.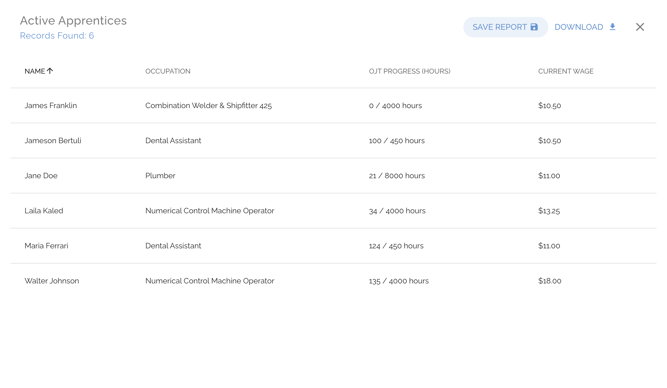 Once your report has run and presented its results, you can view the results in a scrolling list, download the report, or Save the report to your company's profile. To download, simply click the Download button in the top right corner of the dialog box, then select the file format you'd like to download. To save the report, simply click the button labeled Save Report next to the Download button. Once you save a document, it will be available in your Saved Reports tab.
Reports
Saving & Sharing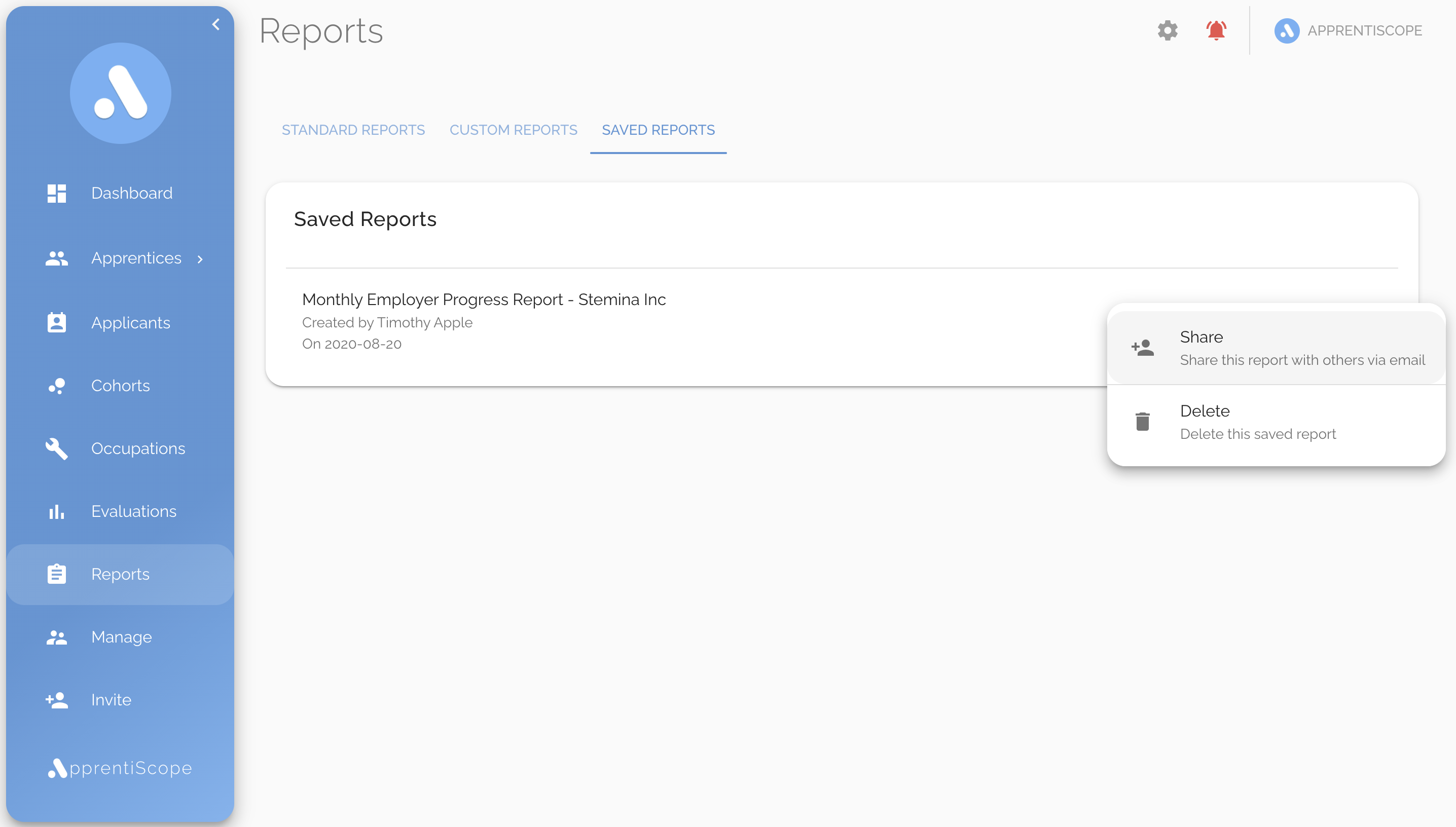 On the Saved Reports tab, any Administrator in your organization can view a list of the reports you've saved and re-run them whenever they'd like. To share a report via a private link, click the three dots on the far right side of the report item, then click Share.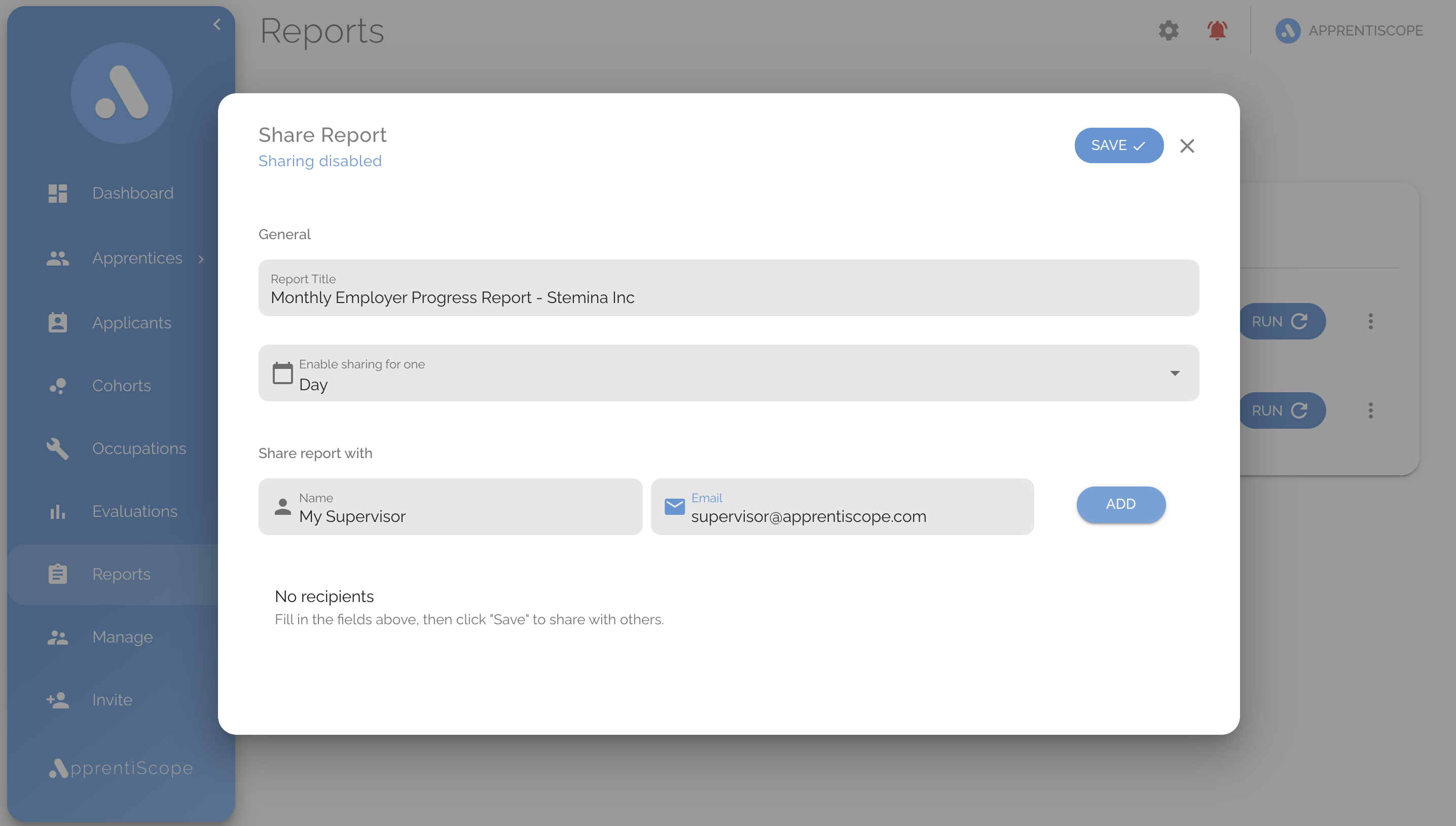 Once you've opened the Share Report dialog, select the duration that you'd like to share the report for (Day, Week, or Month), and add anyone whom you'd like to be able to view the report (they'll also receive an email with viewing details). To save these settings, simply click the blue save button in the top right corner.


User Management
General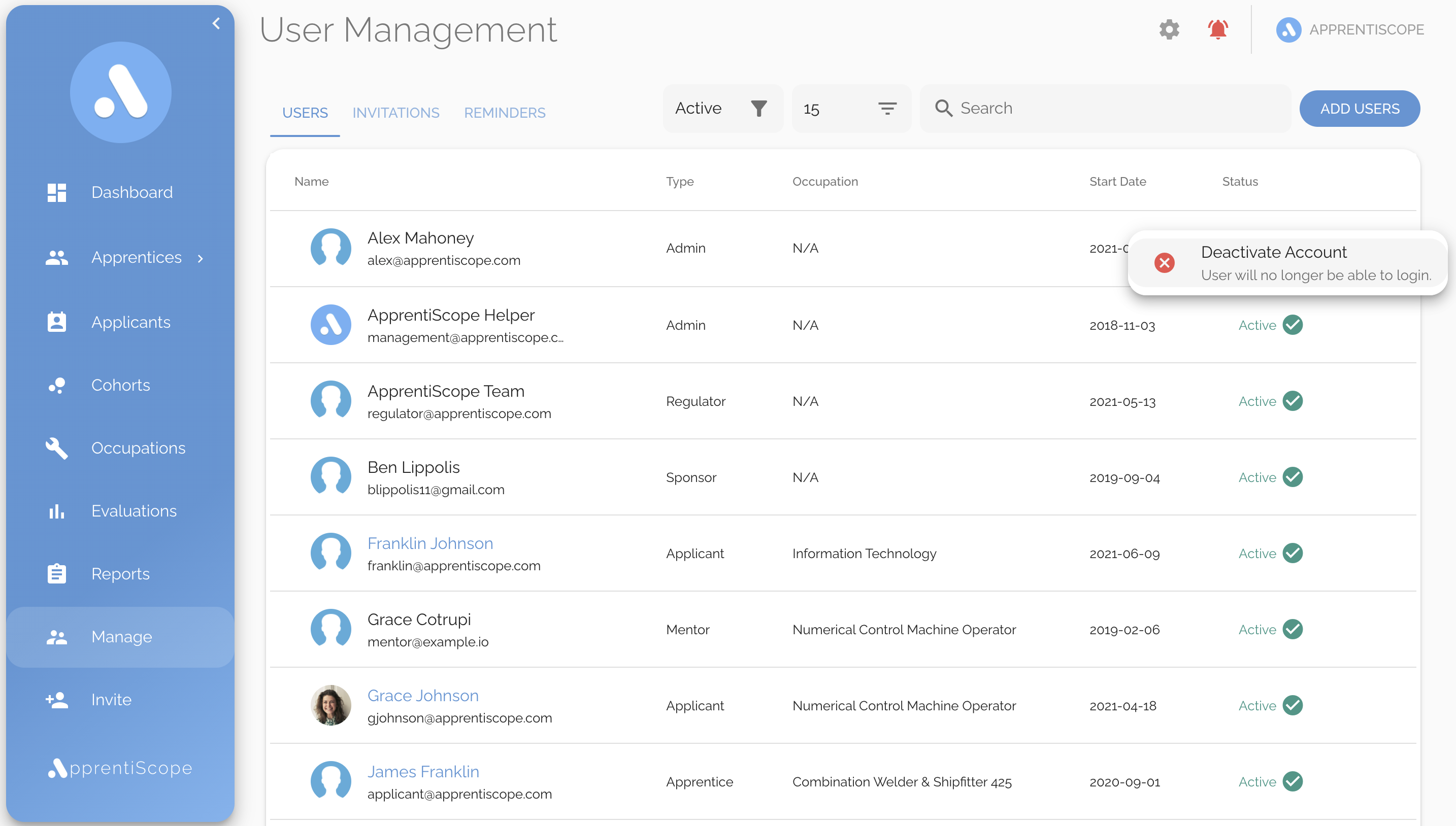 On the User Management page, you can view all the users that have an account within your organization, the status of any active invitations that you have sent out to new users, and any reminders that you've created.
To deactivate a user, scroll over the user you wish to deactivate, then click on the three vertical dots that appear to the right of the user's information. You should see a dialogue box that prompts you to deactivate the user. Click this box.
Note: When you deactivate a user's account, they will no longer be able to log in. Deactivating a user does not delete any data associated with that user. If later you would like to reactivate the user, simply follow the steps above and click 'Activate User'. Your 'Active Users' count, which is used for billing, does not include deactivated users.
User Management
Invitations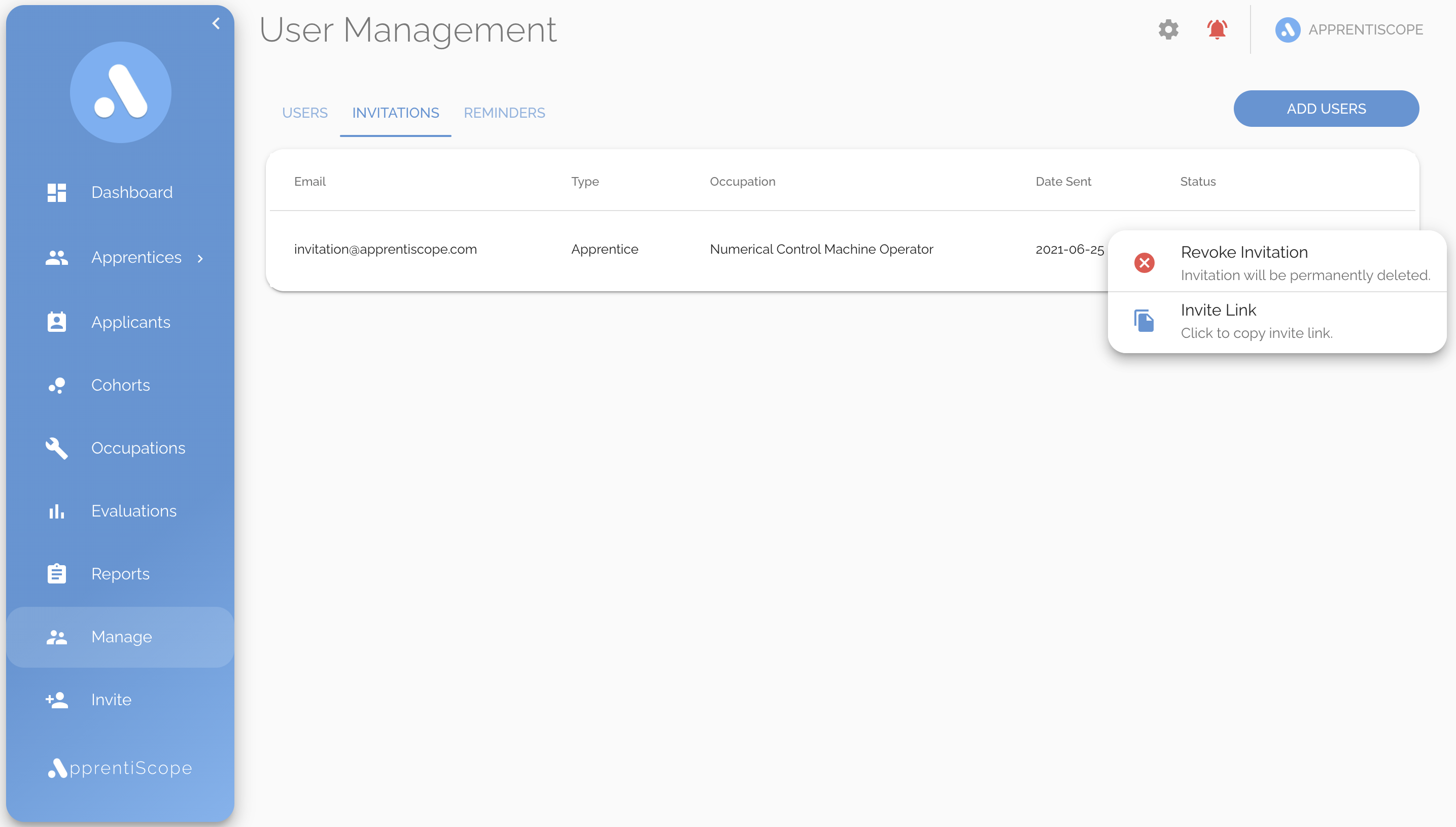 On the Invitations tab, you can view all pending invitations. If you'd like to revoke an invitation or copy the direct link to an invitation, click on the three vertical dots and either click Revoke Invitation or Invite Link.
User Management
Reminders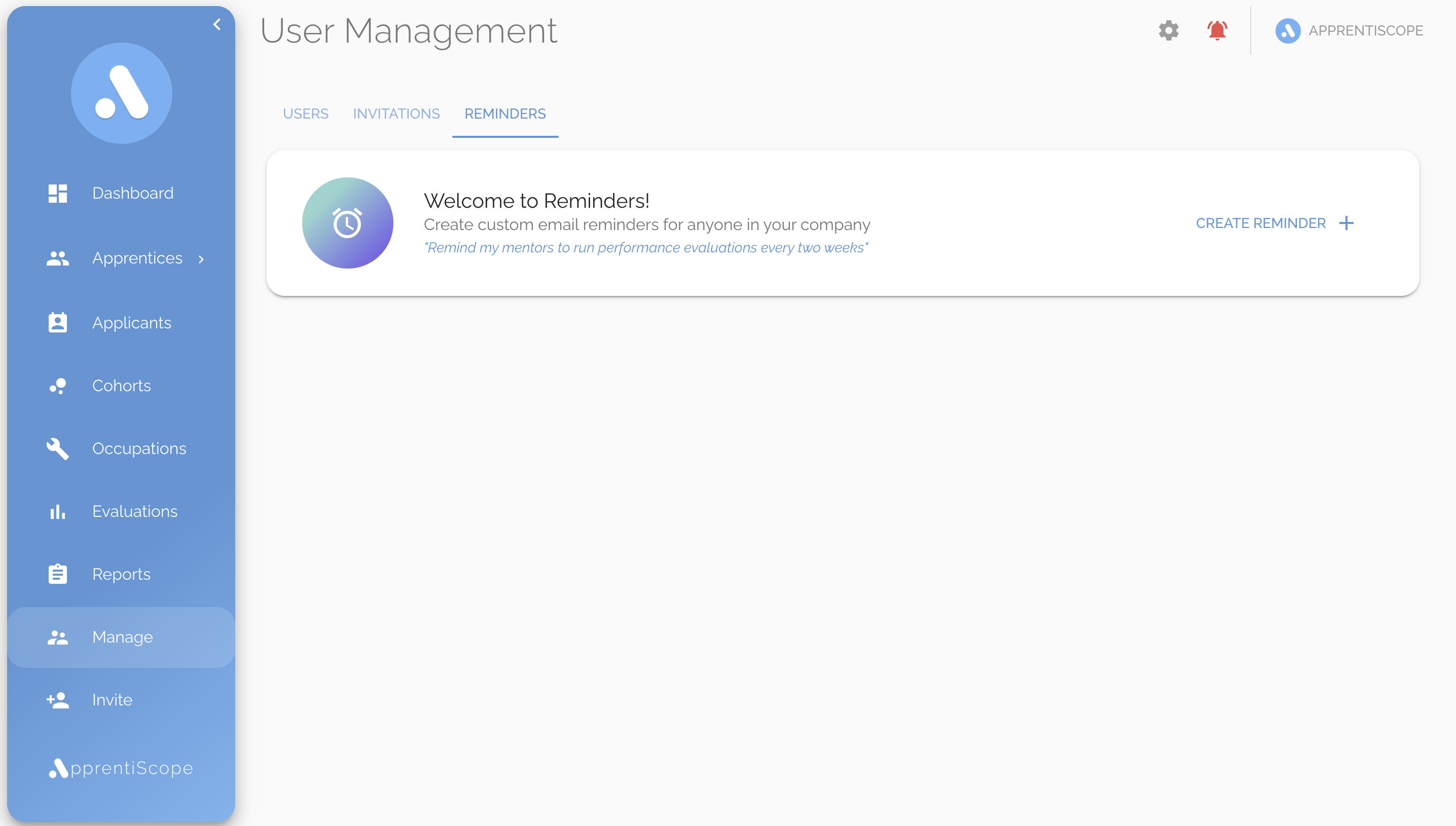 On the Reminders tab, you can set automated, periodic reminders. These reminders will be sent to all users of the selected user type (Apprentices, Mentors, etc.).
Invite Users
Authenticated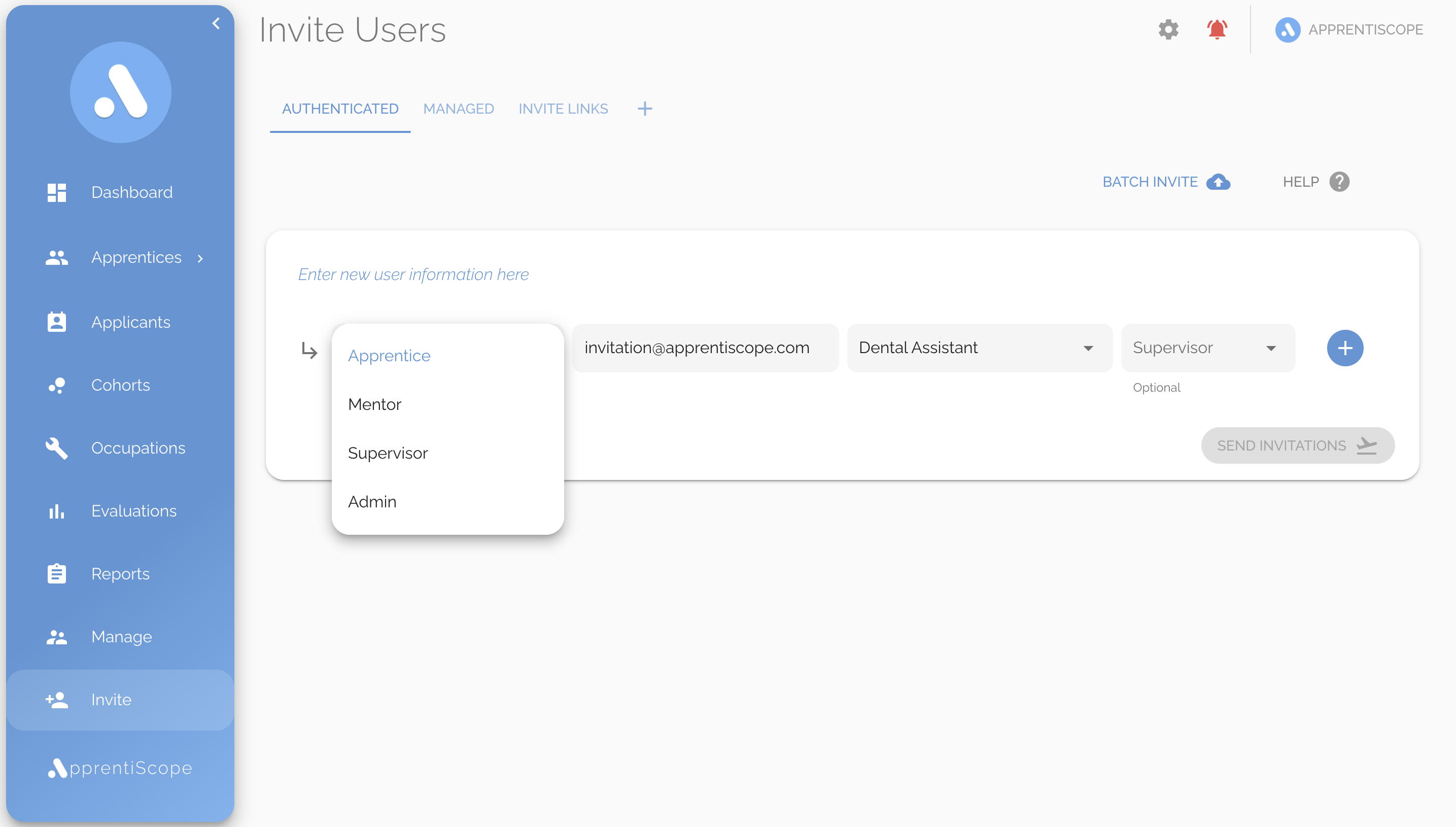 Your Invite page is divided into three tabs: Authenticated, Managed, and Invite Links. On the Invite Users page, you can invite new users to the platform by filling out the form. You may also batch upload a CSV file to expedite the invite process by clicking Batch Invite, then, click Help to download a CSV template.
Note: Once all required fields are filled out (User type, email, occupation), a blue + button will appear on the right-hand side of the invitation card. Make sure to click this button to ensure your invitations are added.
Invite Users
Managed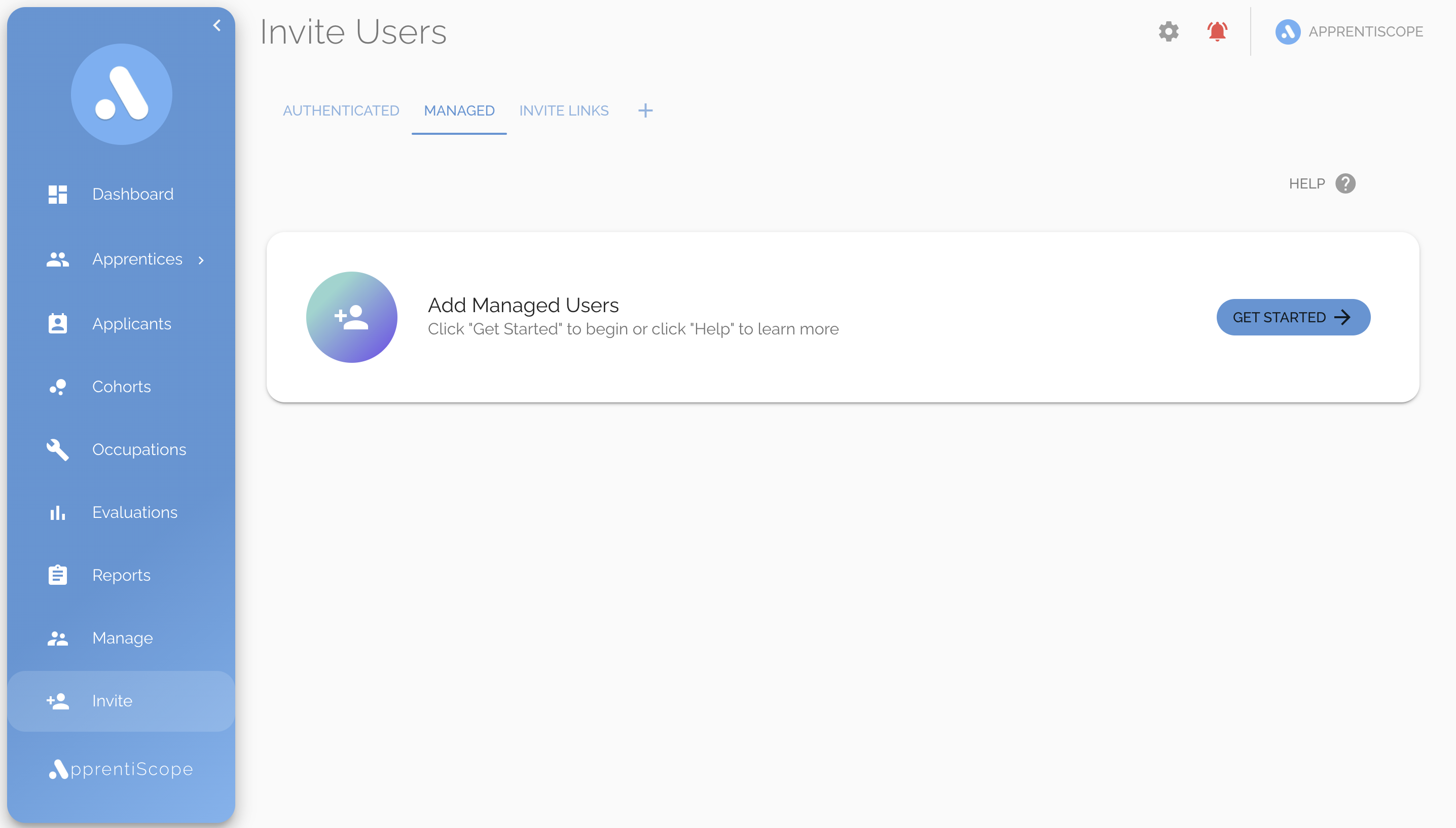 Managed users function exactly like Authenticated users, but they will not have their own ApprentiScope account and therefore will not be able to log in. They are for administrative tracking only. To add Managed users, click the blue Get Started button and follow the tutorial.
Invite Users
Invite Links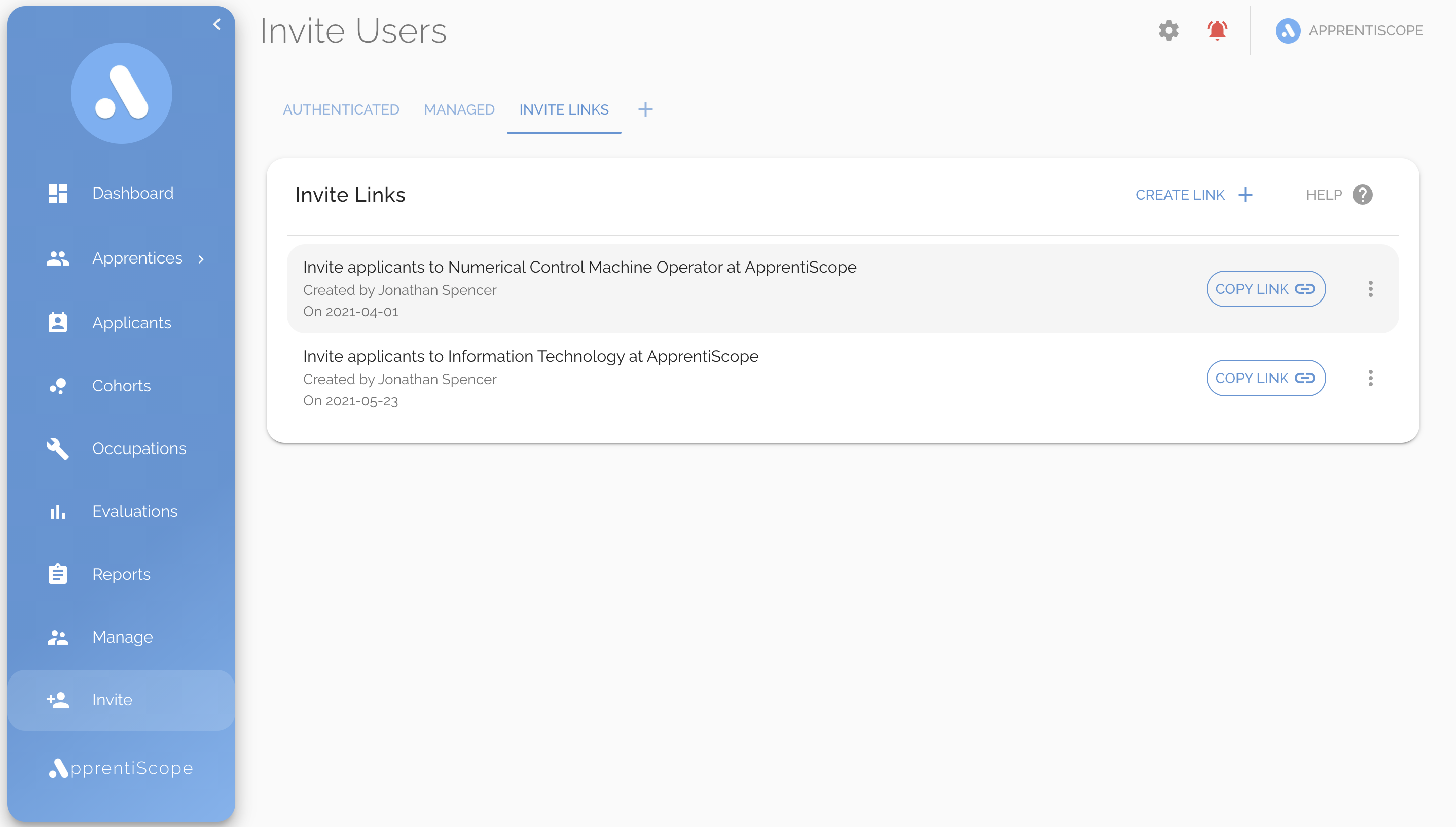 Invite links are public links that will allow new users to create accounts for specific scenarios without requiring you to send them invitations. In other words, if you have tons of users you need to invite, instead of sending invitations to each of them, you can simply set up public Invite Links that they can all use to create an account.