Learn how to use your Apprentice account.
Overview
Apprentice user accounts can submit OJT & RTI hours, log journal entries, track progress, and submit performance evaluations (if applicable).In the following pages, we will walk you through each feature of your Apprentice account and how to use them.
If you have any questions about this guide, feel free to contact us via Live Chat in the bottom right corner of the screen or click here to submit a Support Ticket.
Dashboard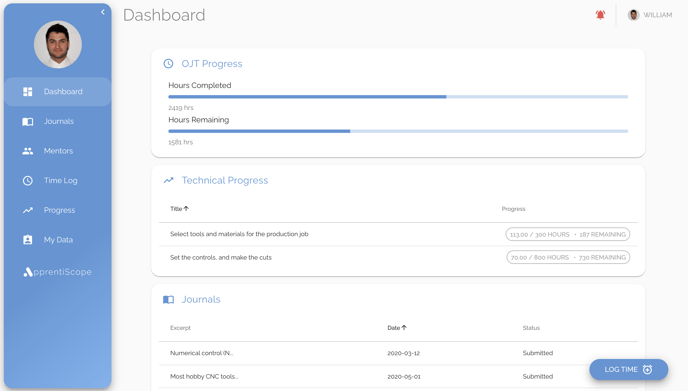 The Dashboard provides an at-a-glance overview of your progress. The first card, OJT Summary, shows you how many OJT hours you've logged, your overall OJT completion percentage and your OJT hours remaining. The next card, Technical Progress, displays a list of technical competencies that you're actively working on. And finally, you have a summary of your most recent journal entries and your occupation, supervisor, and employer information.
Toolbar
Notifications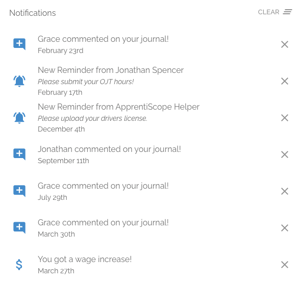 Clicking on the bell icon in the top toolbar will reveal your notifications menu. Notifications provide you with a short summary of what has happened while you were away. To view a notification's content click it or delete it by clicking the X button on the right-hand side.
Toolbar
Account Menu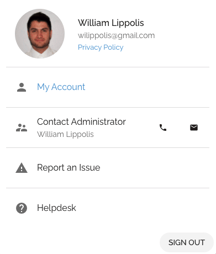 Located in the top right corner of your screen, the Account Menu is where you can view your account information, report issues, visit Helpdesk, and sign out of your ApprentiScope account.
Toolbar
Report an Issue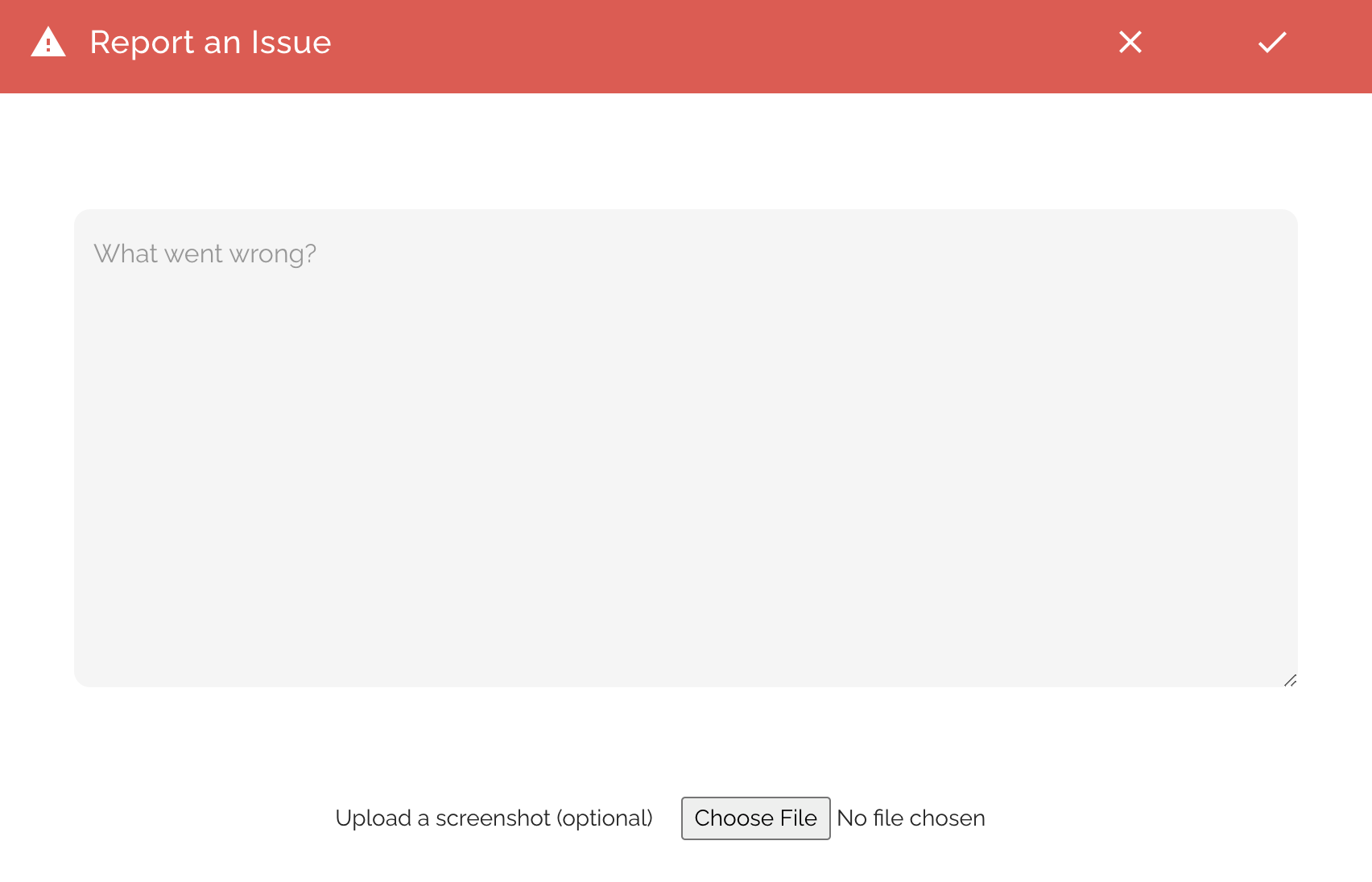 If you run into an issue with your account or something isn't working correctly, we'd love to know about it. To report an issue, click on your Account Menu and select the second option labeled Report an Issue.
Toolbar
Helpdesk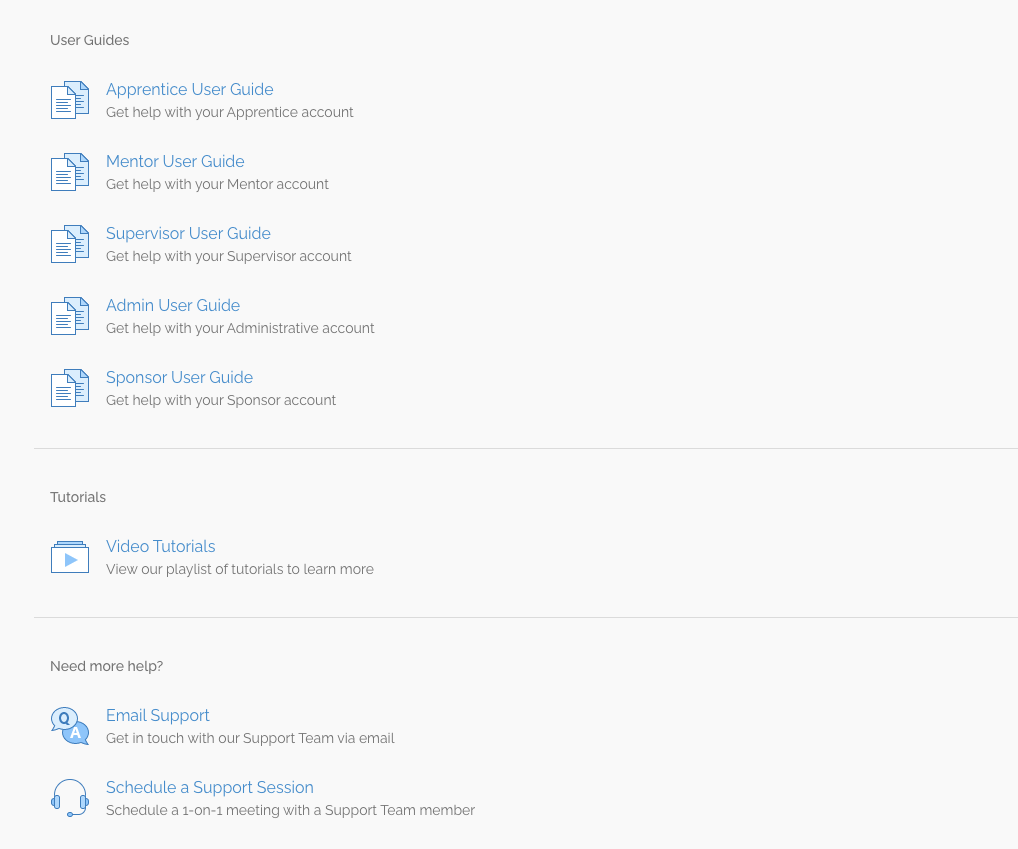 If you need help with your account, visit our Helpdesk by opening your Account Menu and selecting the third option labeled Helpdesk. Here you can view documentation, schedule support sessions, and live chat with our Support Team.
Profile
General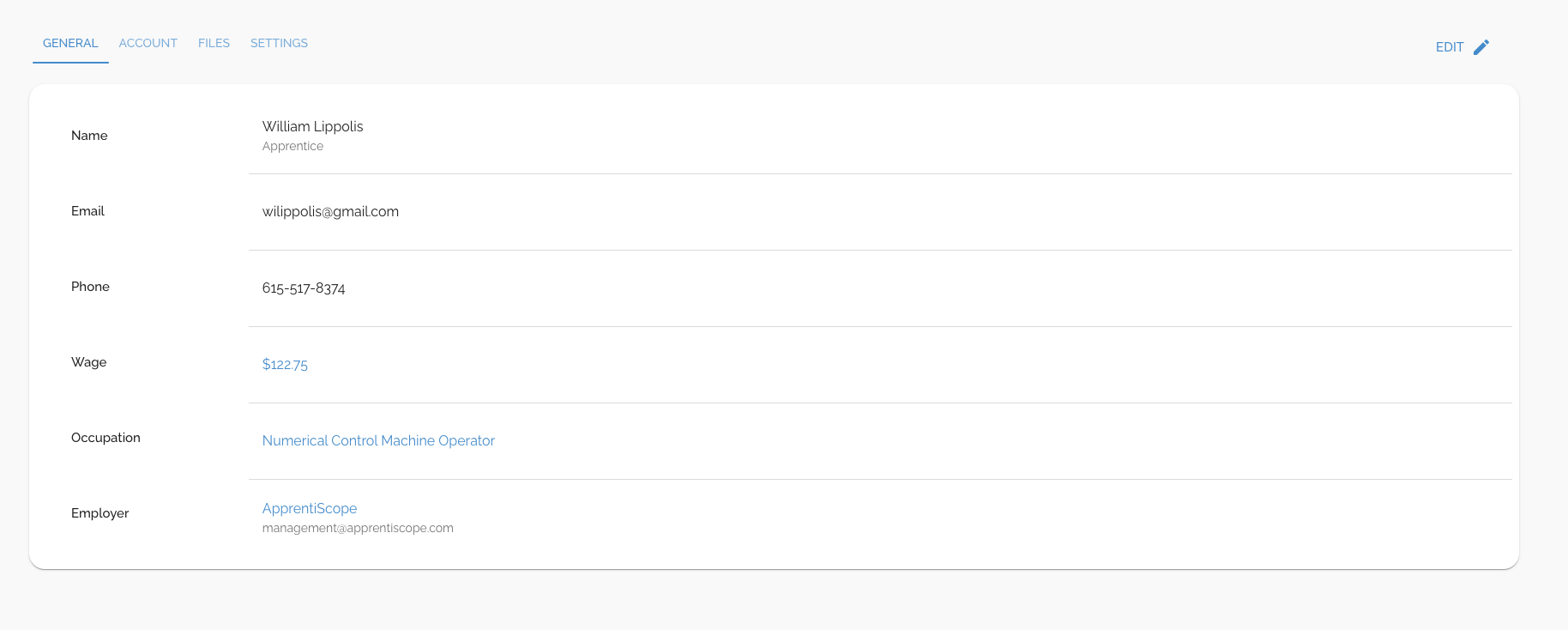 The Profile page is accessible by opening your Account Menu and clicking on the first item labeled My Account. Here you'll find an overview of all the information associated with your account and the ability to change your password, change your profile picture, and manage your subscription. On the General tab, you can edit your information by clicking the Edit button on the top right. If you would like to edit your personal name or location, please contact support.
Profile
Account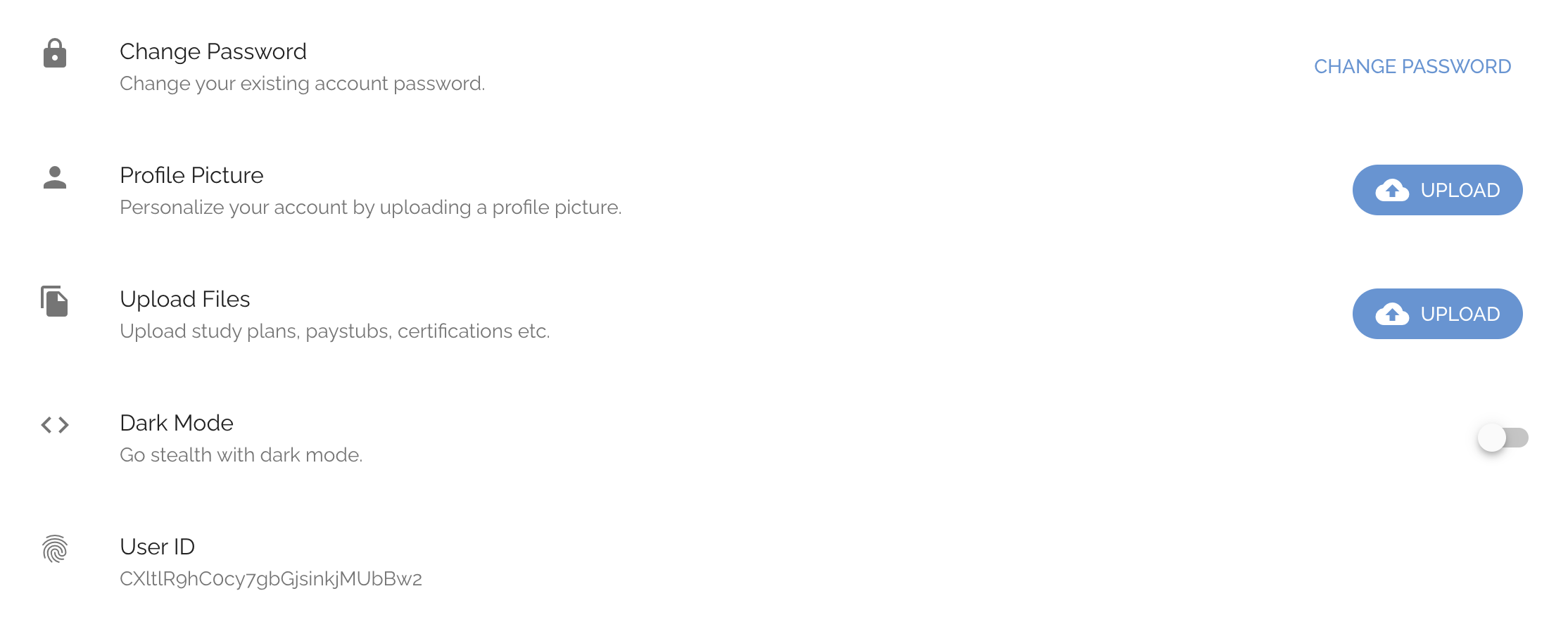 The Account tab is where you can change your password or change your profile picture. To change your password, simply click Change Password and a dialog box will appear, prompting you to enter your old password & new passwords.
Profile
Files

On the Files tab, apprentices can upload documents to their Administrators. Simply click the blue Upload button in the top right corner and follow the instructions.
Profile
Settings

On the Settings tab, you can adjust the look and feel of your account by toggling on Dark mode. More settings are in the works!
Journals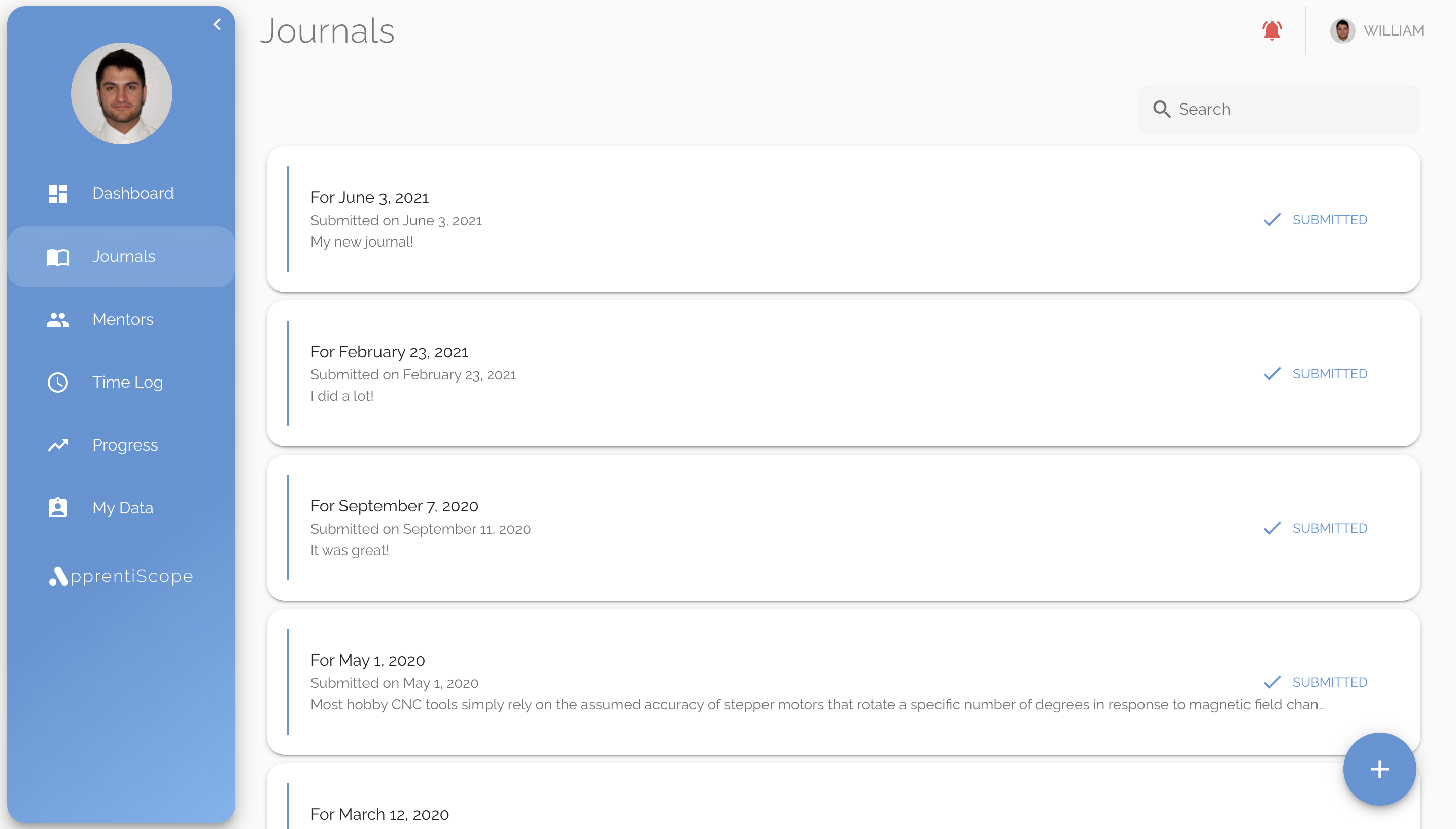 On the Journals page, you can submit journal entries to your Mentors & Supervisors. Once you submit a journal, you'll be able to have a conversation with your Mentors & Supervisor in the comments of your journal. You can view these comments simply by clicking on a journal.
Journals
Create Journal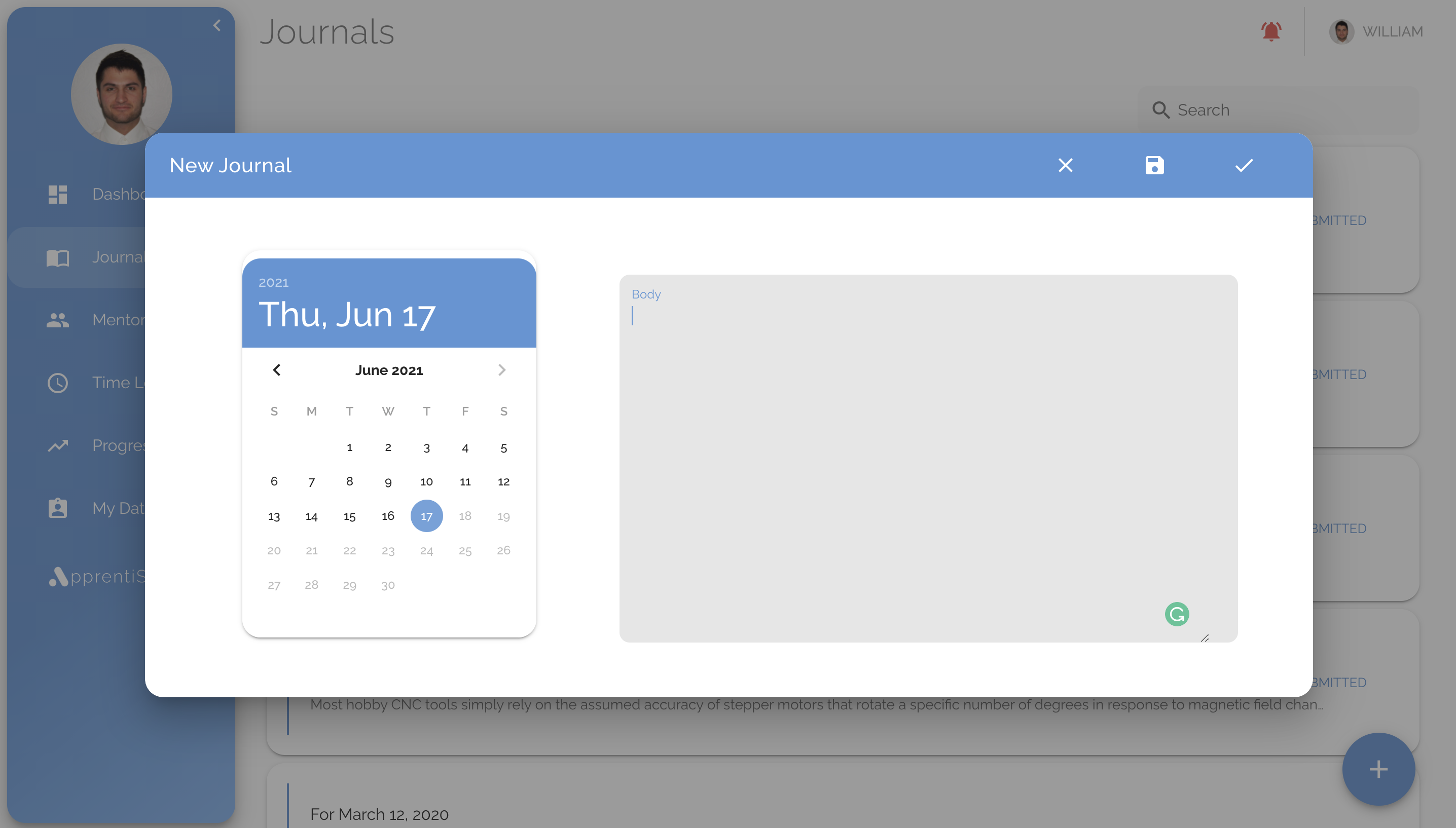 To submit a new journal, click the blue plus button located in the bottom right-hand corner. This will launch a dialog box (shown above) prompting you to select a date on the calendar and write your journal text in the text box. When you finish writing your entry, click the white check button located in the top right-hand corner of the dialog box.
Mentors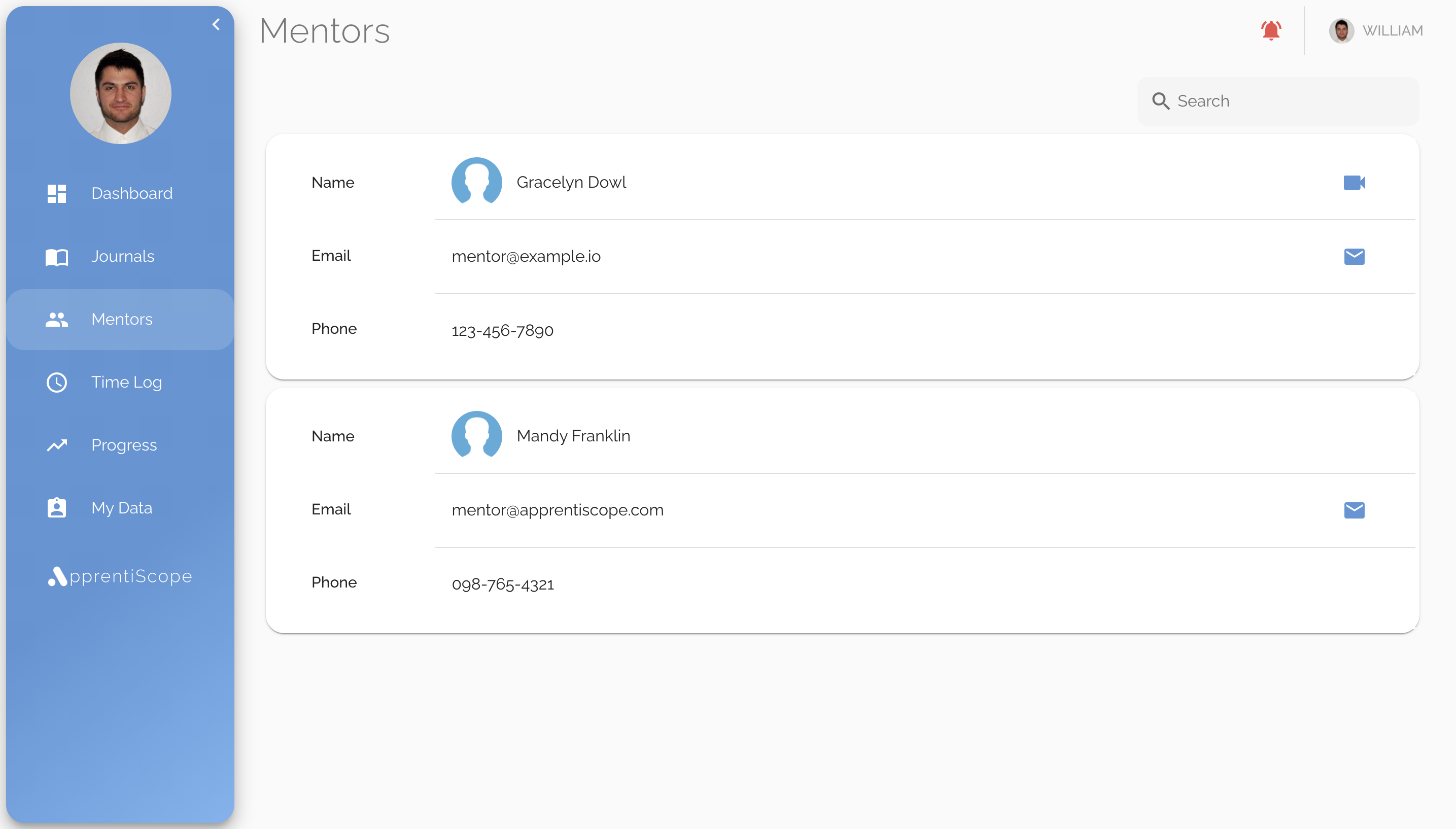 On the Mentors tab, you can view a list of your mentors with their contact information (email addresses & phone numbers). If you are having trouble with a task or competency, feel free to reach out to them!
Time Log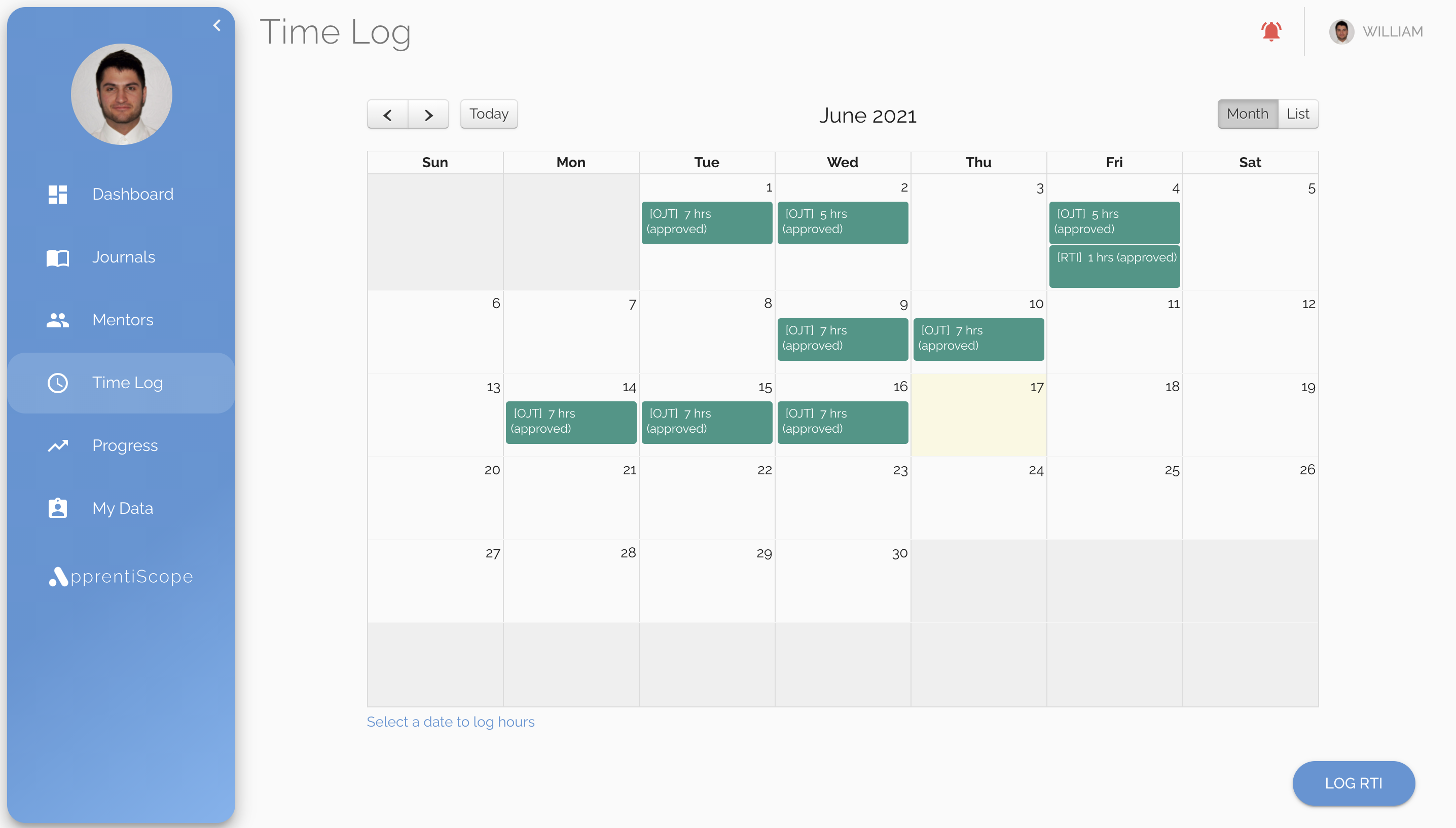 On the Time Log page, you can view a calendar filled with your OJT & RTI submissions for the month. To edit a submission, simply click on one and make changes. To go to a different month, simply click the back arrow in the top left corner.
Time Log
Submit OJT Hours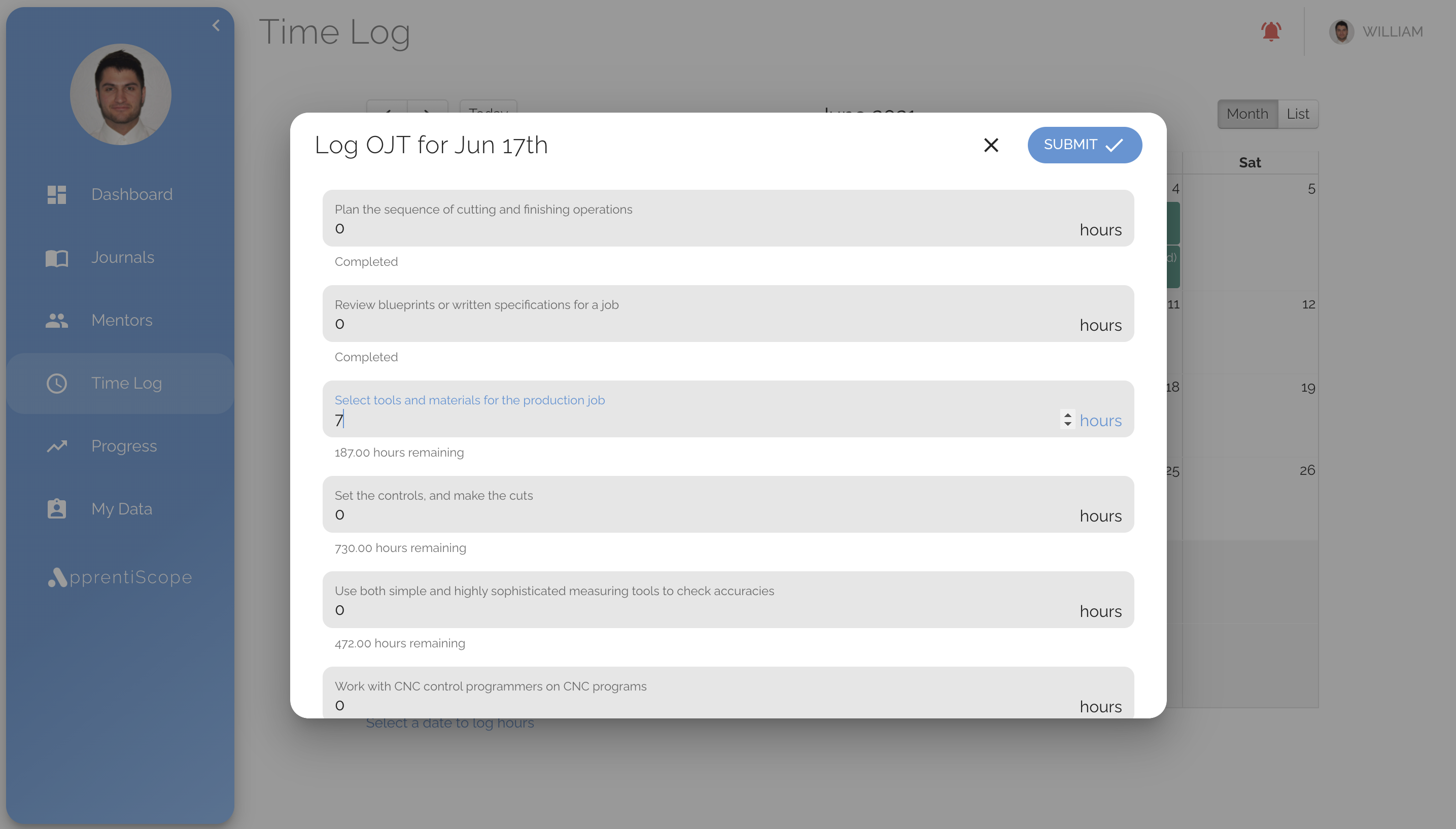 To log On-the-Job Training (OJT) hours, navigate to the Time Log page, click on a day on the calendar, find the competency/competencies you worked on, fill in the corresponding field with the number of hours you worked, and click the check button in the top right-hand corner (shown below).
Time Log
Submit RTI Hours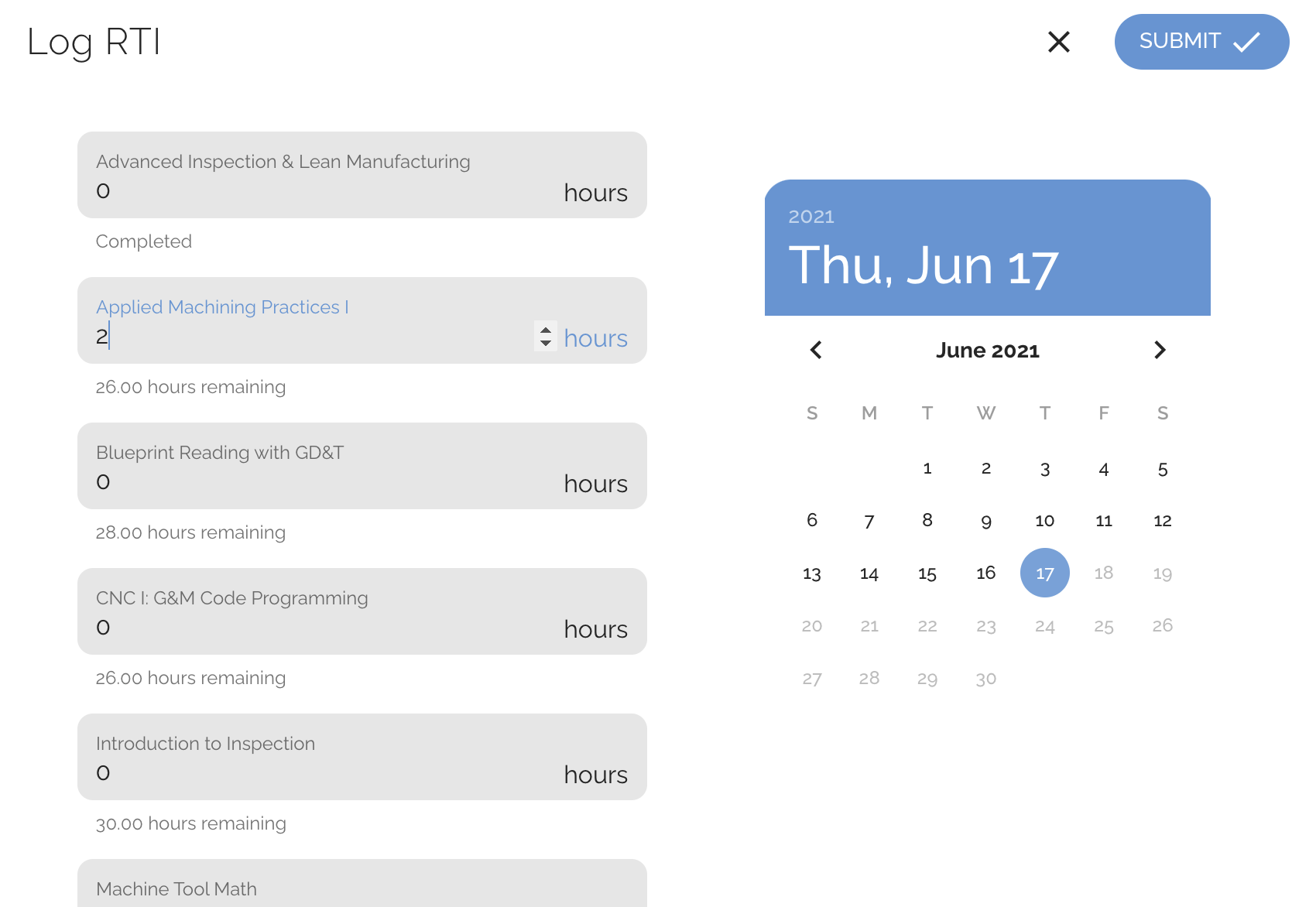 To log Related Technical Instruction (RTI) hours, click the blue circular button labeled RTI located on the bottom right-hand corner of the screen. This will launch a dialog box, containing a date field and your RTI course schedule. Select the day you attended class, enter the number of hours for the corresponding course you attended, then click the white check in the top right-hand corner to submit.
Progress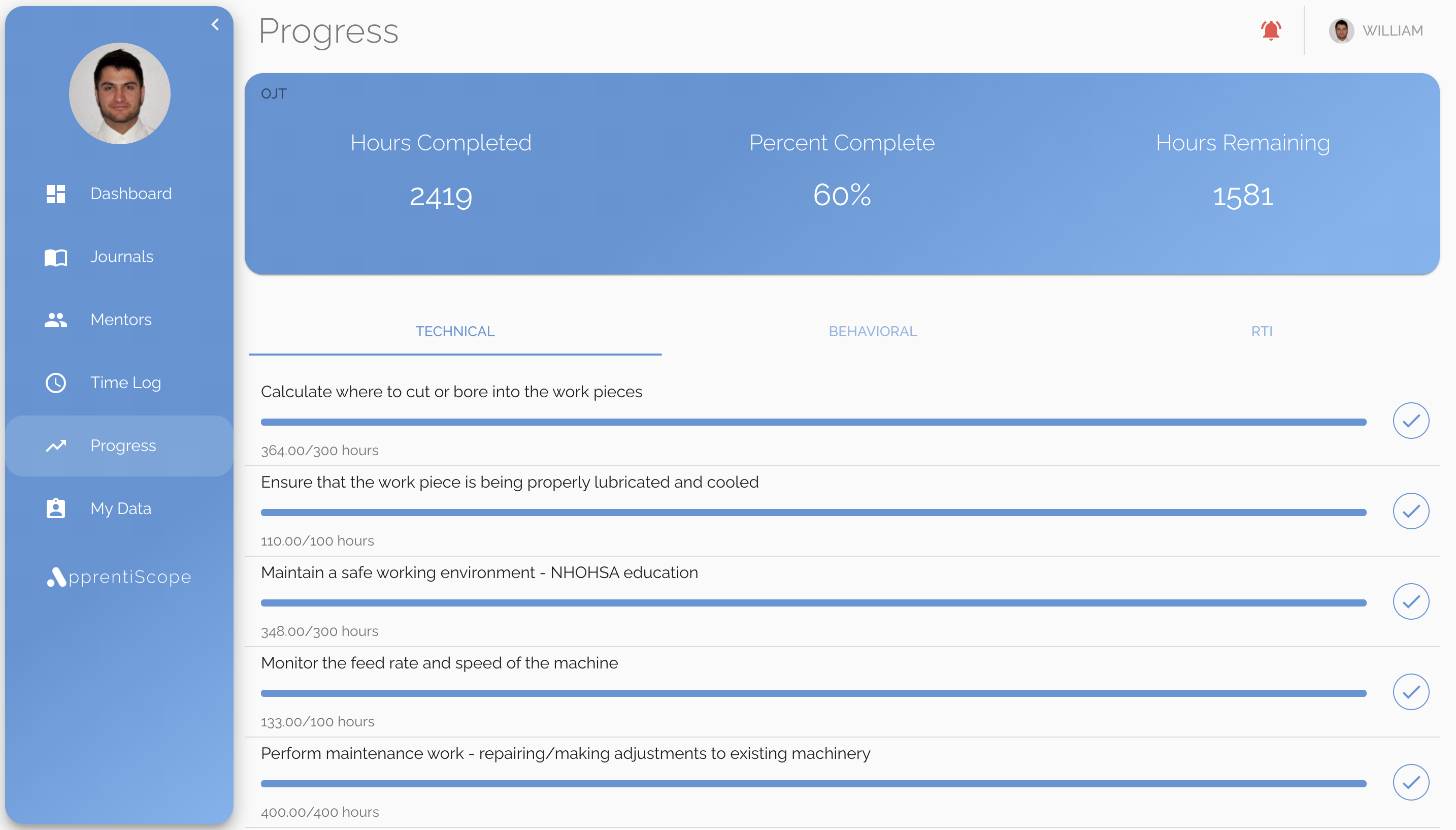 On the Progress tab, you can view a full breakdown of your progress split up by competency. We also have three sub-categories: Technical, Behavioral, and RTI (Related Technical Instruction). You can cycle through these sub-categories to check in on our progress throughout each of these tasks and review feedback from your mentors.