Learn how to use your Apprentice account.
Overview
Apprentice user accounts can submit OJT & RTI hours, log journal entries, track progress, and submit performance evaluations (if applicable). In the following guide, we will walk you through each feature of your Apprentice account and how to use them.

Dashboard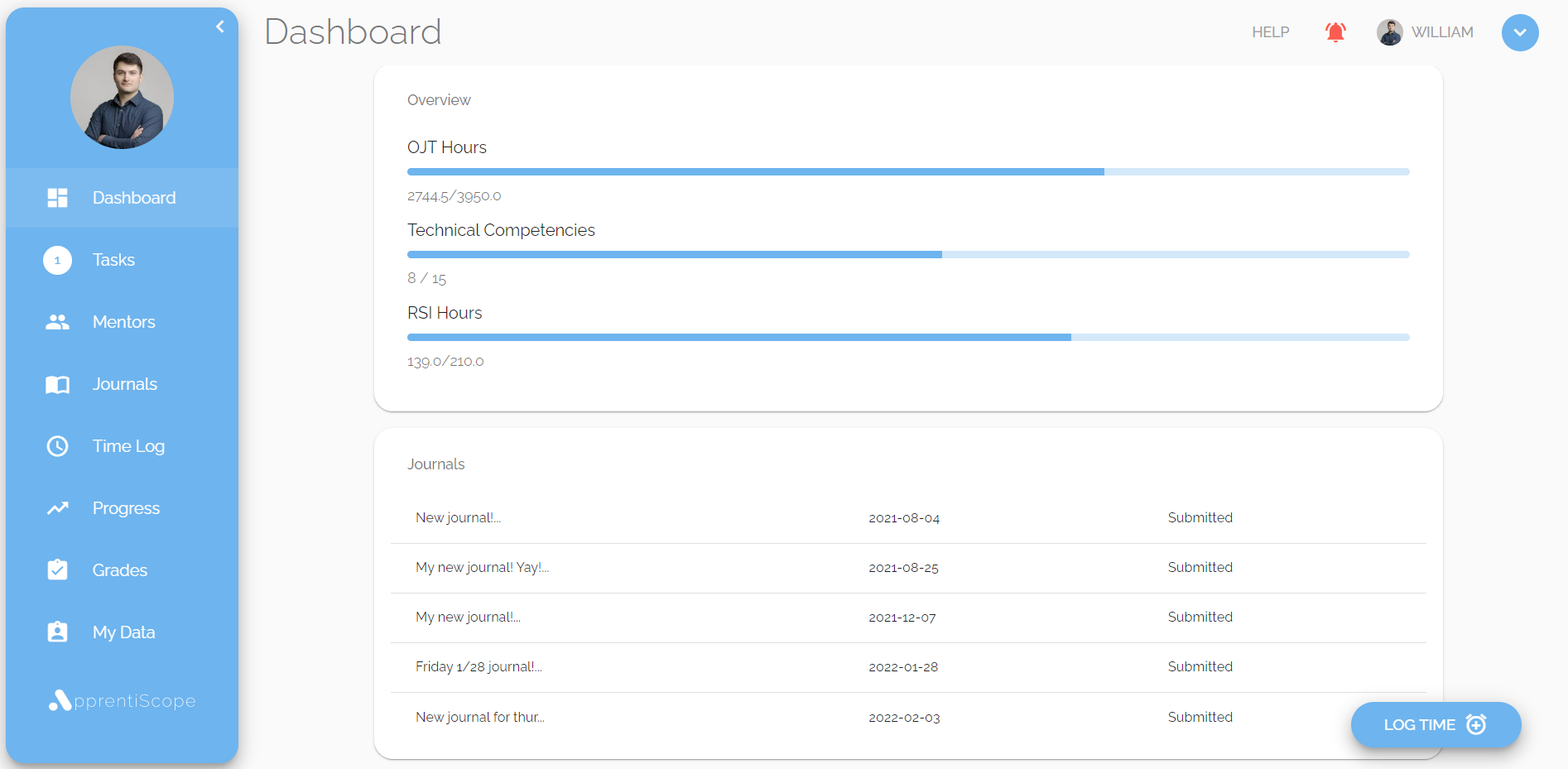 The Dashboard provides an at-a-glance overview of your progress. The first card, Overview, shows you how many hours you've logged for OJT and RSI/RTI, as well as how many technical competencies you've completed. The next card, Journals, displays a list of past journal entries you've created (note: not all apprentices will be asked to create journal entries). And finally, you have a summary of your Account information including your name, occupation, supervisor(s), and employer.
Toolbar
Notifications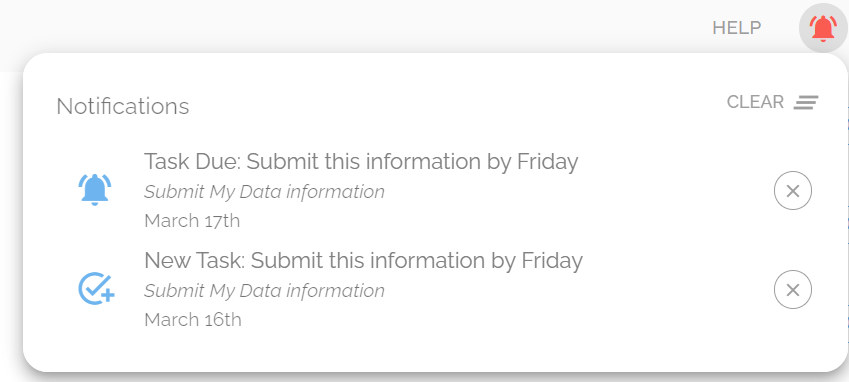 Clicking on the bell icon in the top toolbar will reveal your notifications menu. Notifications provide you with a summary of what has happened while you were away. You can delete the notification by clicking the round x button in the right corner of the notification.
Toolbar
Account Menu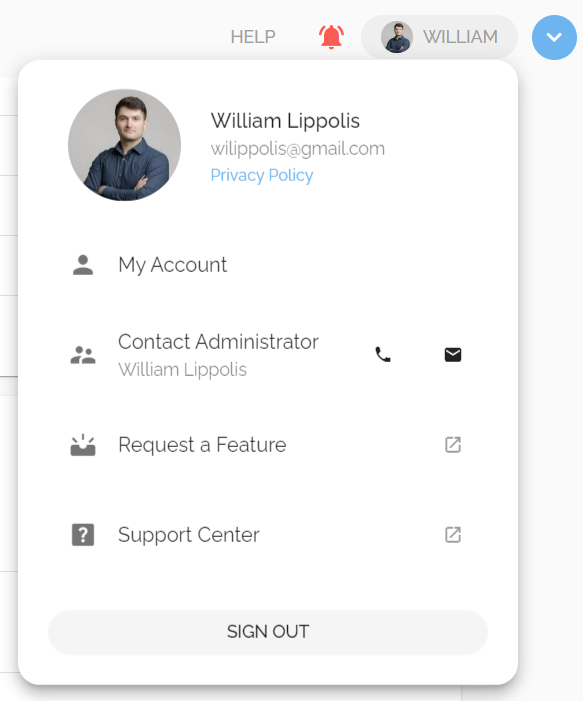 Located in the top right corner of your screen, the Account Menu is where you can access your account information, contact your administrator, request a feature, and navigate to our Support Center.



Toolbar
Get Help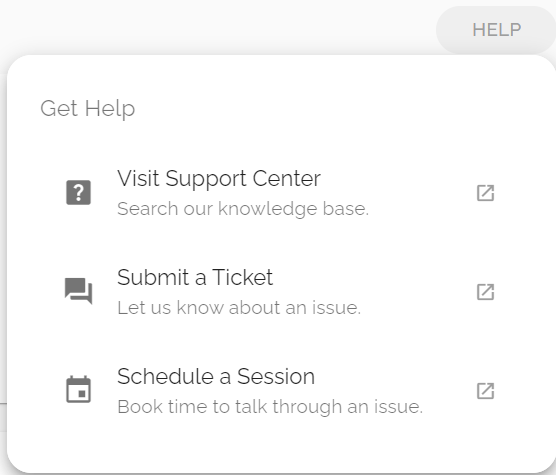 If you have questions about your account or want to learn how to use a feature, select Visit Support Center in the Help menu to be navigated to a database full of great knowledge resources. If you run into an issue with your account or something isn't working correctly, we'd love to know about it. To report an issue, click on the Help button and select the second option labeled Submit a Ticket.
Profile
General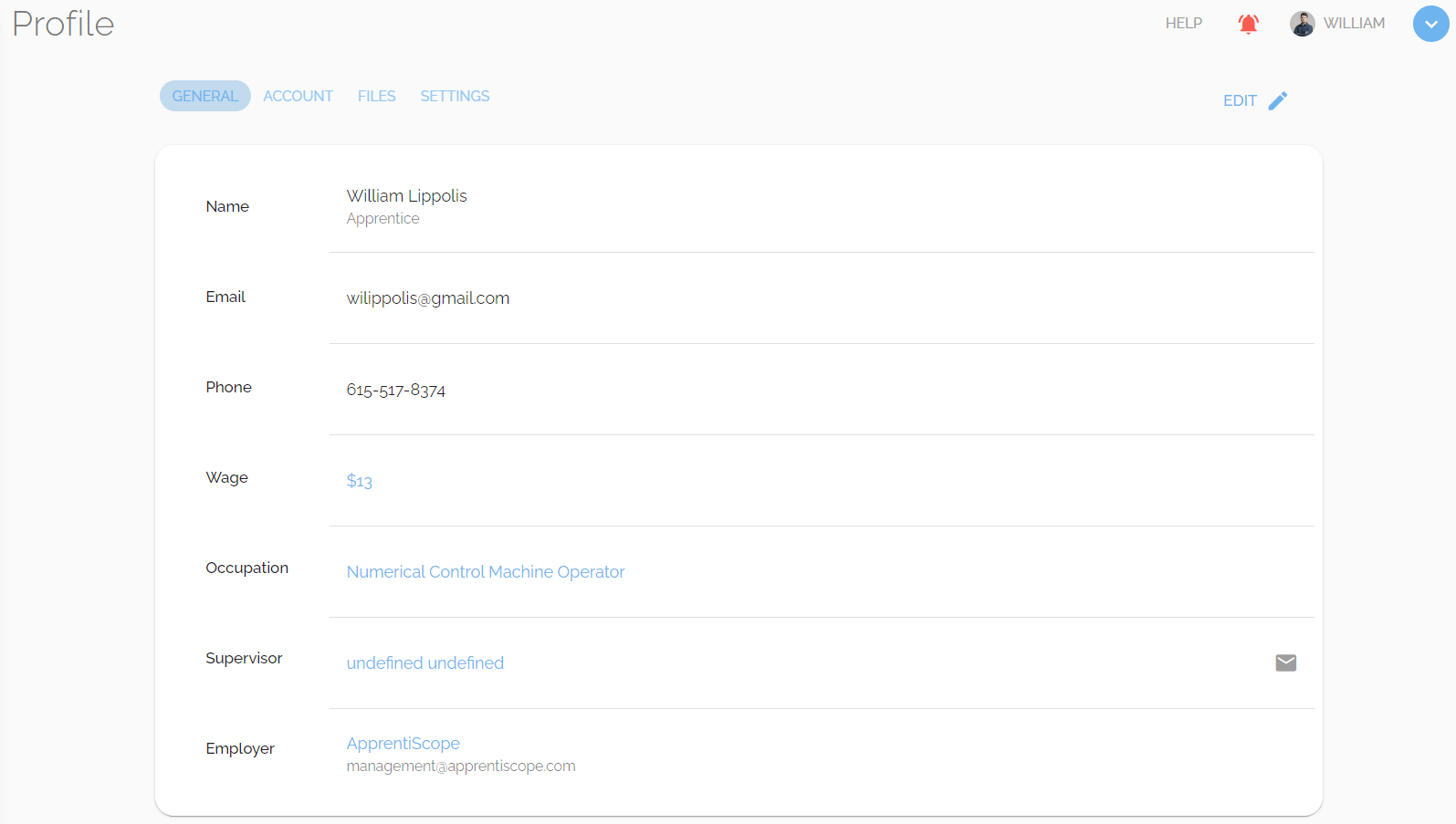 The Profile page is accessible by opening your Account Menu and clicking on the first item labeled My Account. On the General tab, you'll be able to view and edit your Email and Phone, as well as view your name. wage, occupation, supervisor(s) and employer.

Profile
Account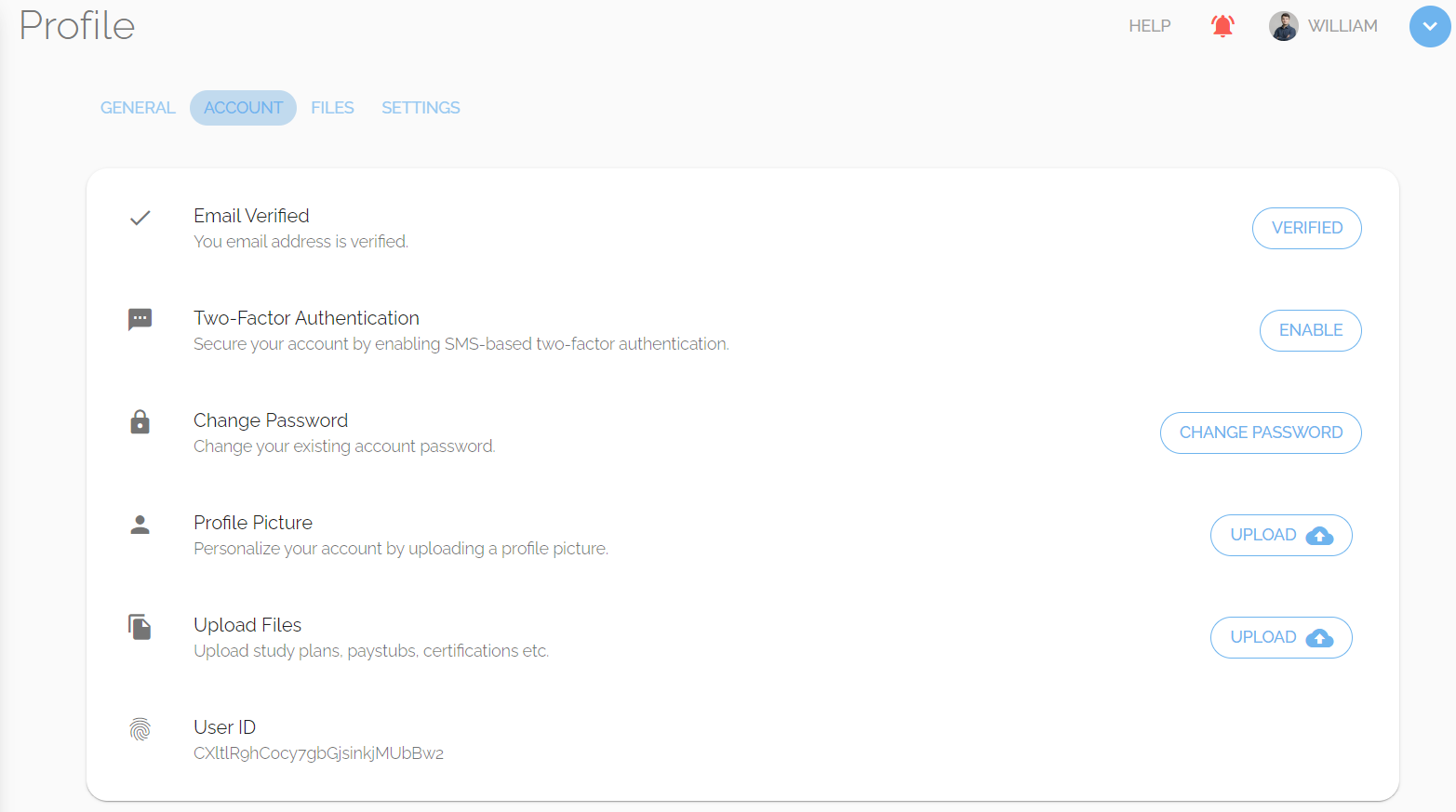 On the Account tab, you can verify your email, enable two-factor authentication, change your password, upload a profile picture, upload files, and view your unique User ID.

Profile
Files


On the Files tab, apprentices can upload required documentation. Simply click the blue Upload button in the top right corner and follow the instructions.

Profile
Settings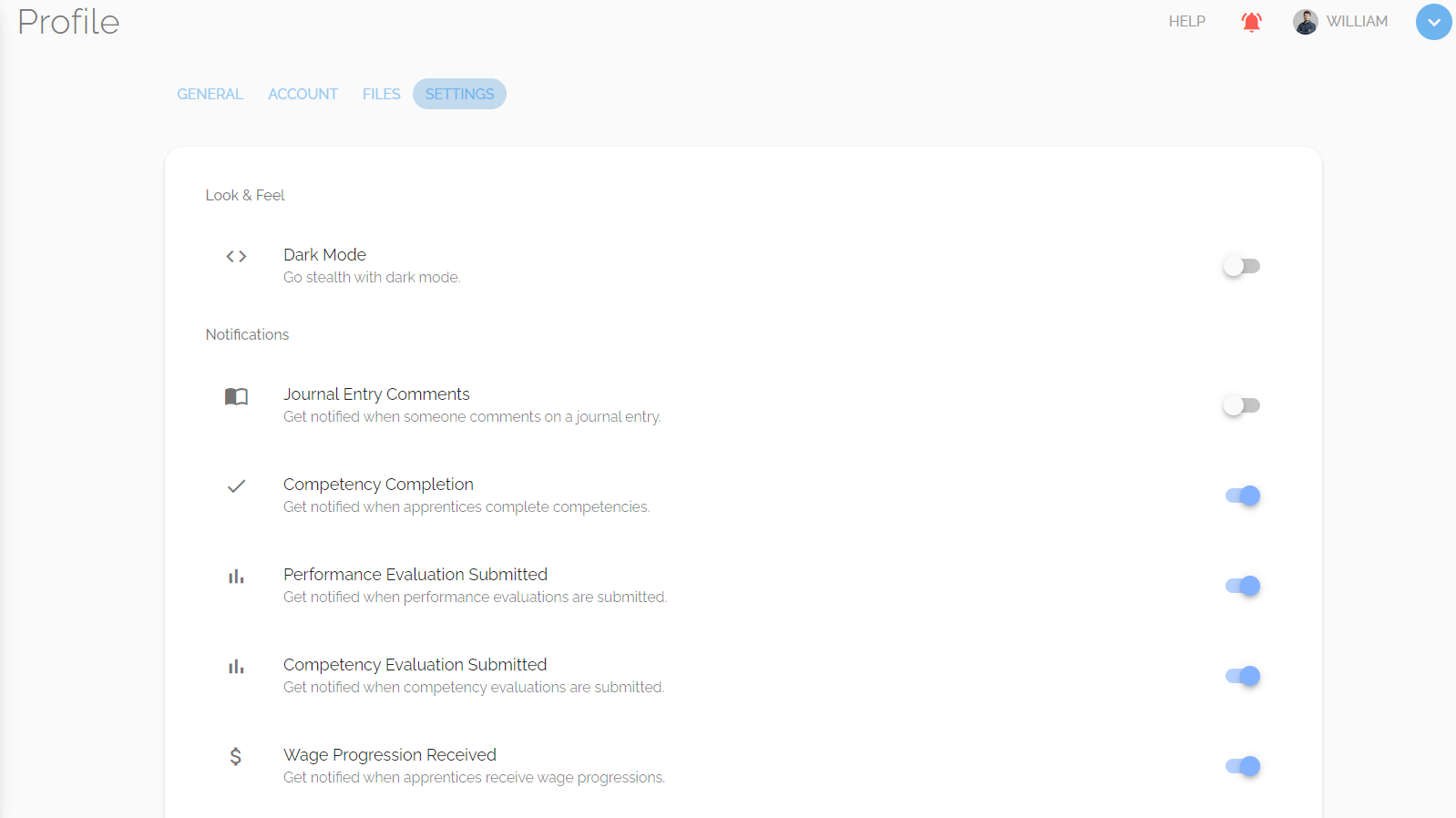 On the Settings tab you can modify the look and feel of your account by toggling on Dark Mode, and enable/disable specific system notifications.


Tasks




On the tasks tab, you'll find tasks your administrators have created for you. You can mark the tasks as completed by clicking the blue Mark Done button. If you mark a task as completed in error, you can revert it back to incomplete by clicking the gray over-arrow to the right of the Mark Done button.
Mentors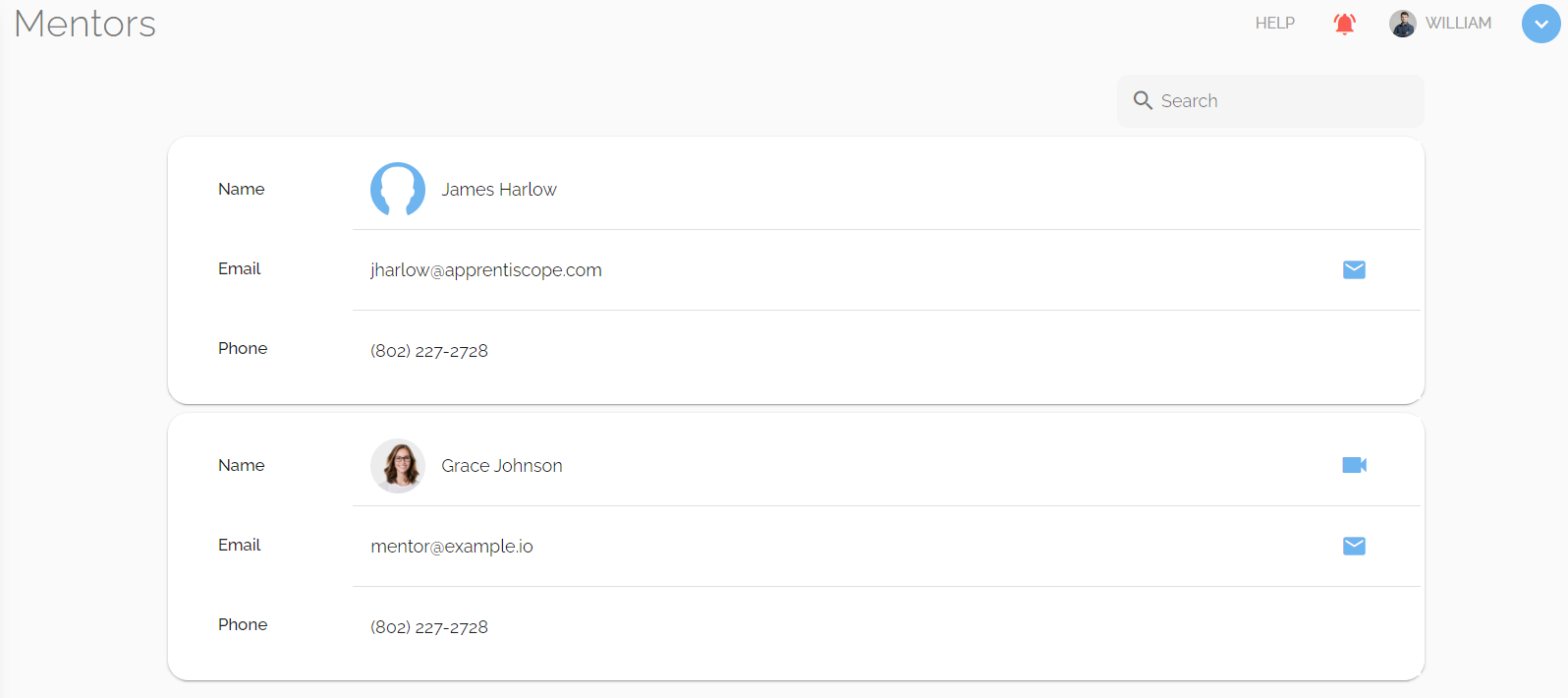 On your mentors tab, apprentices can see a list of your mentors along with their contact information. You can send an email to your apprentices by clicking the blue mail icon.
Journals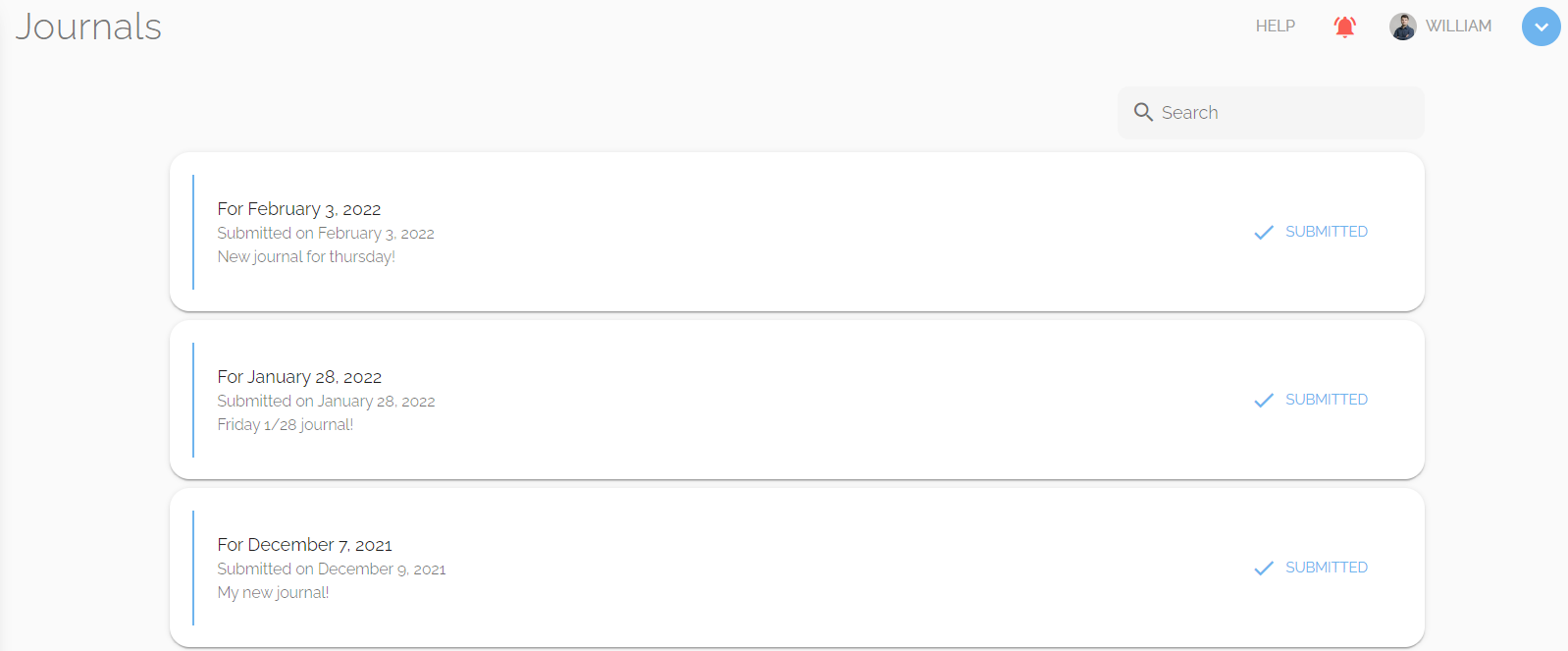 You can submit journal entries to your Mentors & Supervisors on the Journals page. Once you submit a journal, you can converse with your Mentors & Supervisor in the comments of your entry. You can view these comments simply by clicking on a journal.

Journals
Create Journal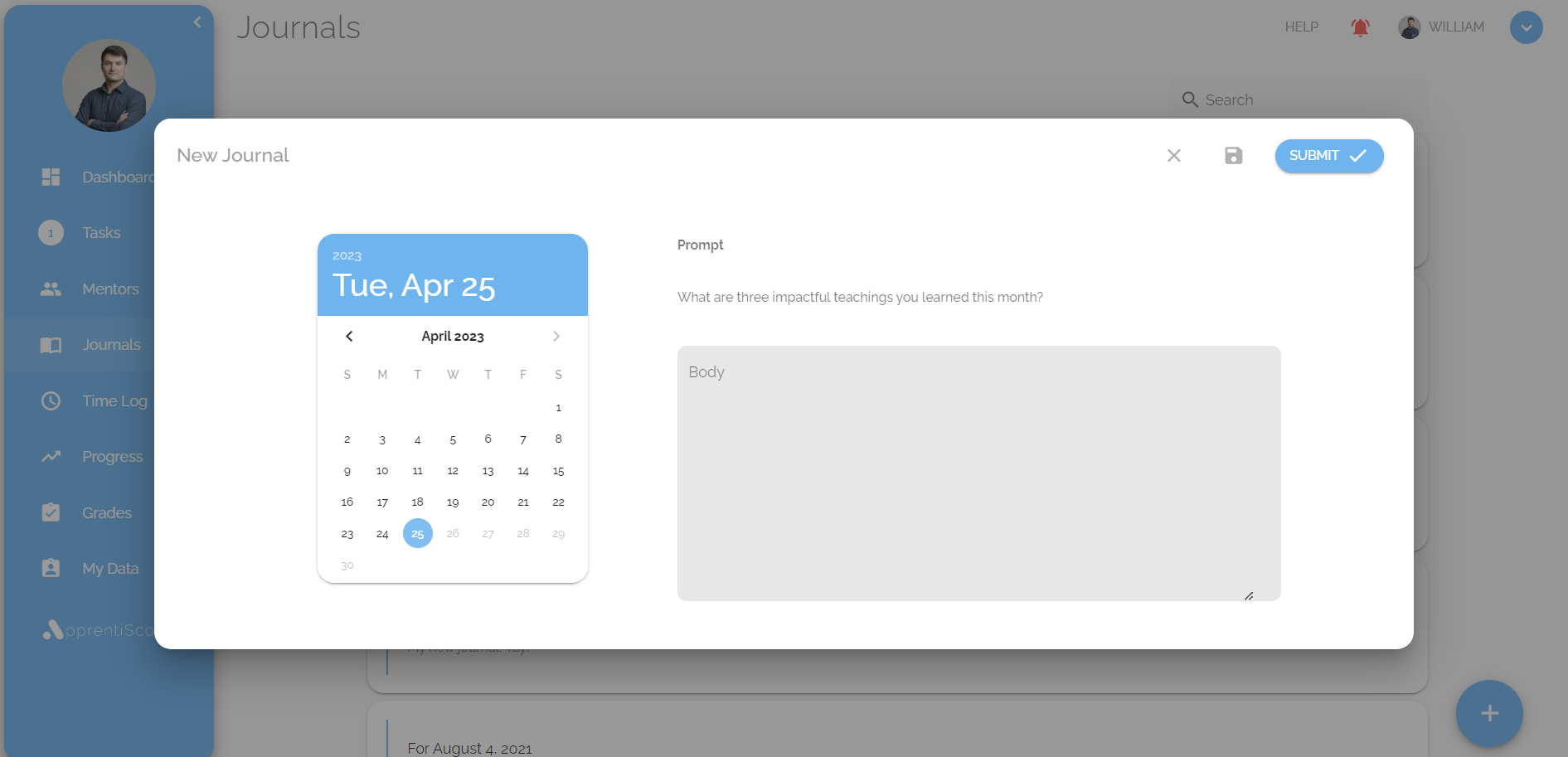 To submit a new journal, click the blue plus button in the bottom right-hand corner of your screen. This will launch a dialog box (shown above) prompting you to select a date on the calendar and write your journal entry in the text box. When you finish writing your entry, click the blue Submit button located in the top right-hand corner of the dialog box.
Time Log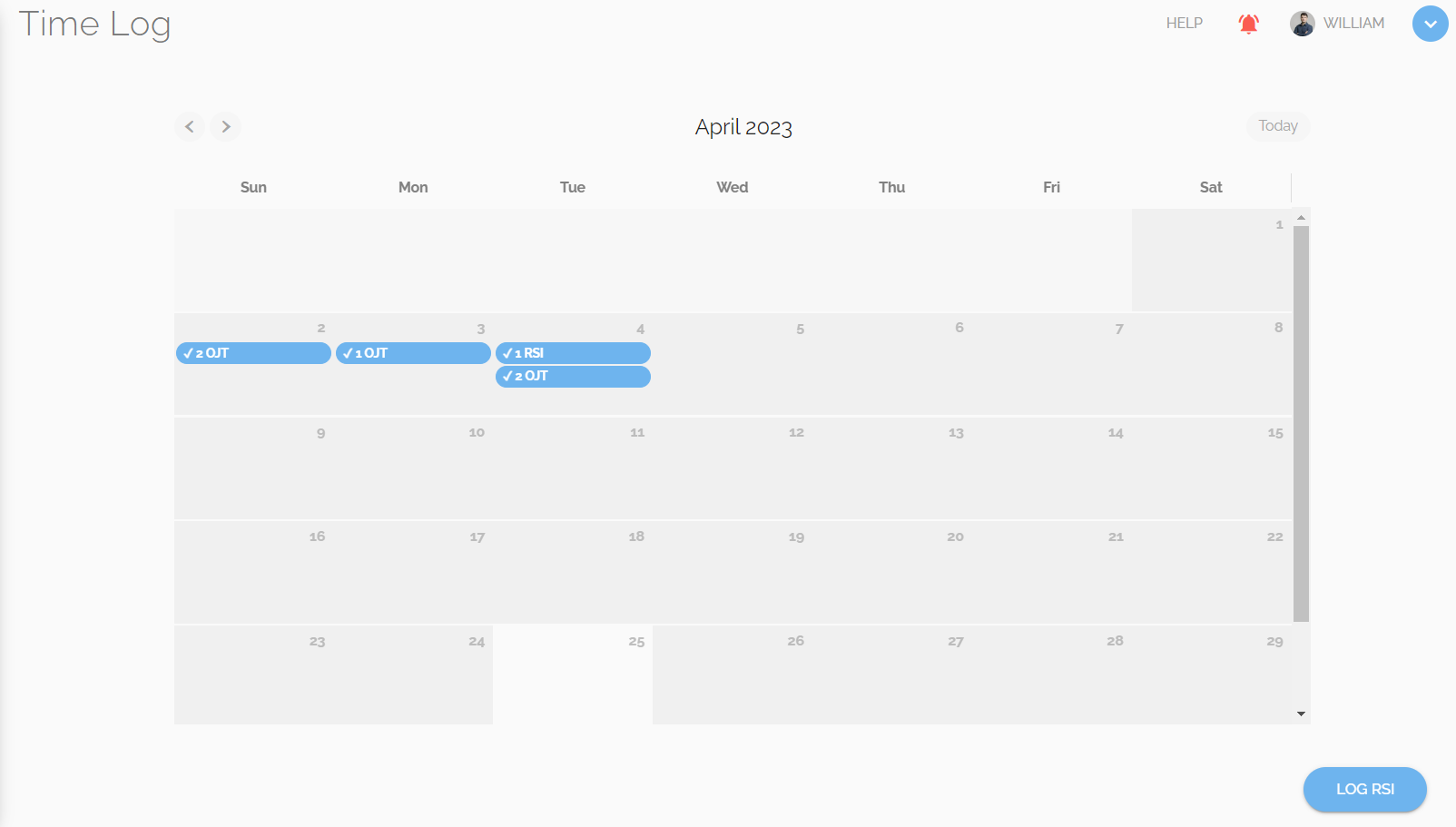 On the Time Log page, you can view a calendar filled with your OJT & RTI submissions for the month. If your administrator gave you edit permissions, you can edit a previous submission by clicking on the blue entry. Click the arrows in the top left corner to go to a different month.


Time Log
Submit OJT Hours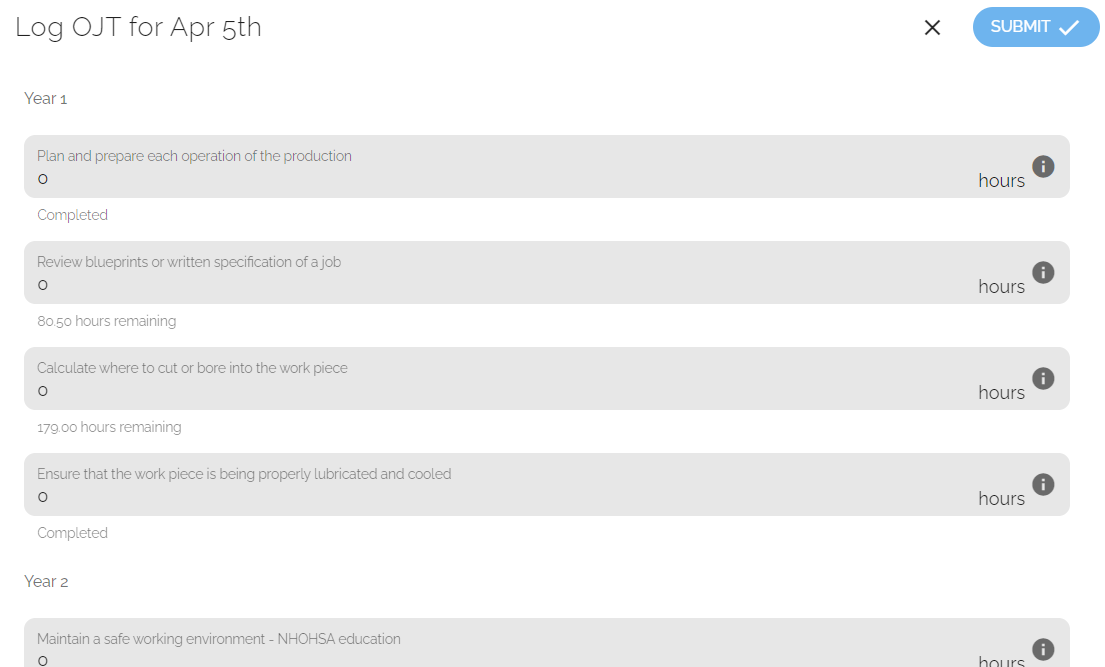 To submit additional hours, click on a day in the calendar, fill out the dialogue box shown above, and click the blue Submit button, or click the blue Log RSI button in the bottom right-hand corner, choose a day from the mini calendar, fill in the appropriate hours, and click the blue Submit button.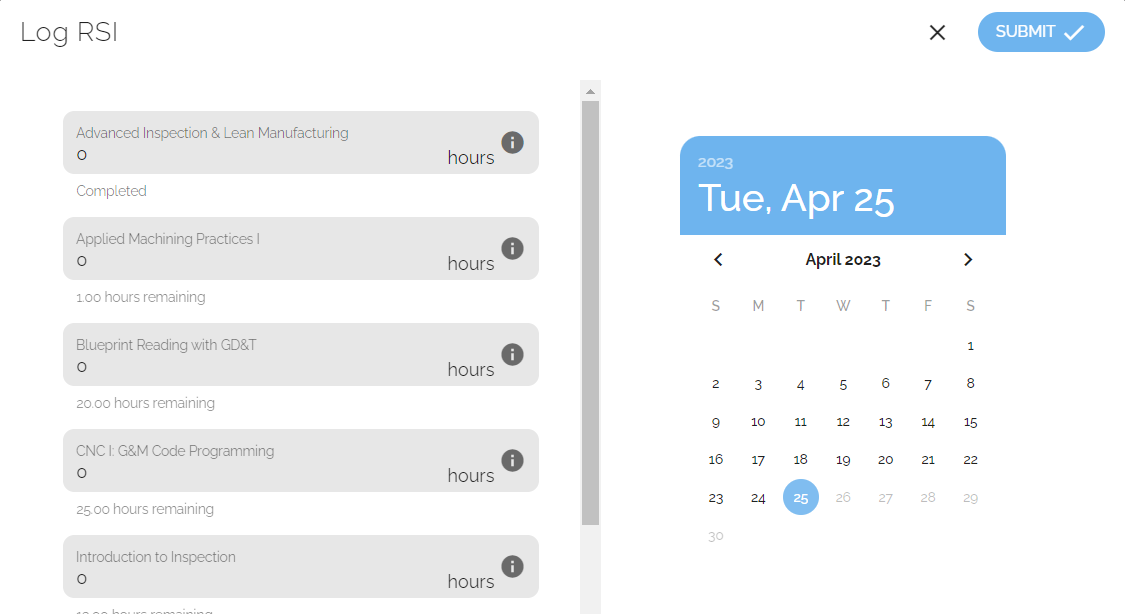 Progress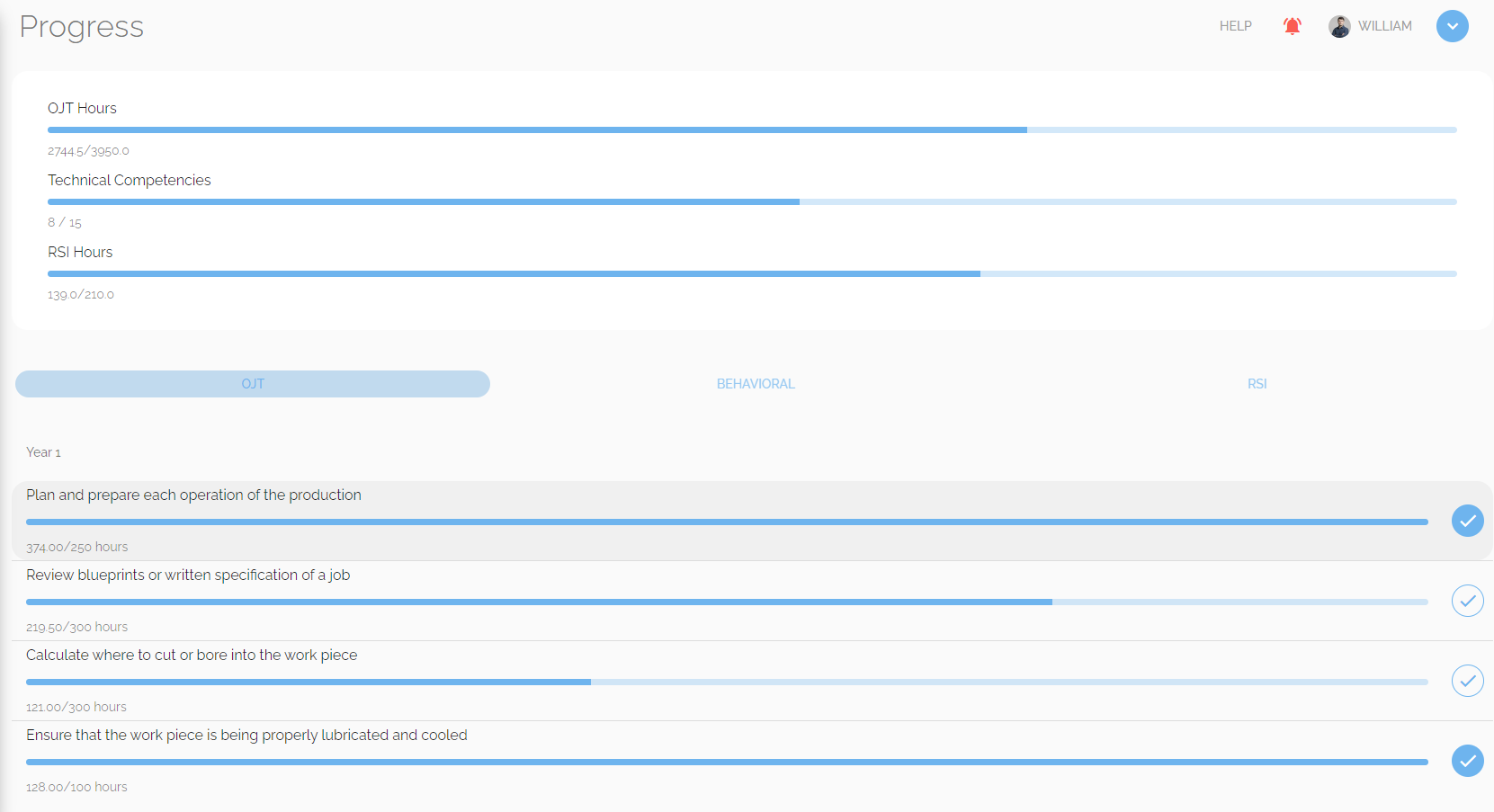 On the Progress page, you can view a full breakdown of your progress split up by competency. We also have three sub-categories: Technical, Behavioral, and RTI (Related Technical Instruction). You can cycle through these sub-categories to check in on our progress and review feedback from your mentors.

Grades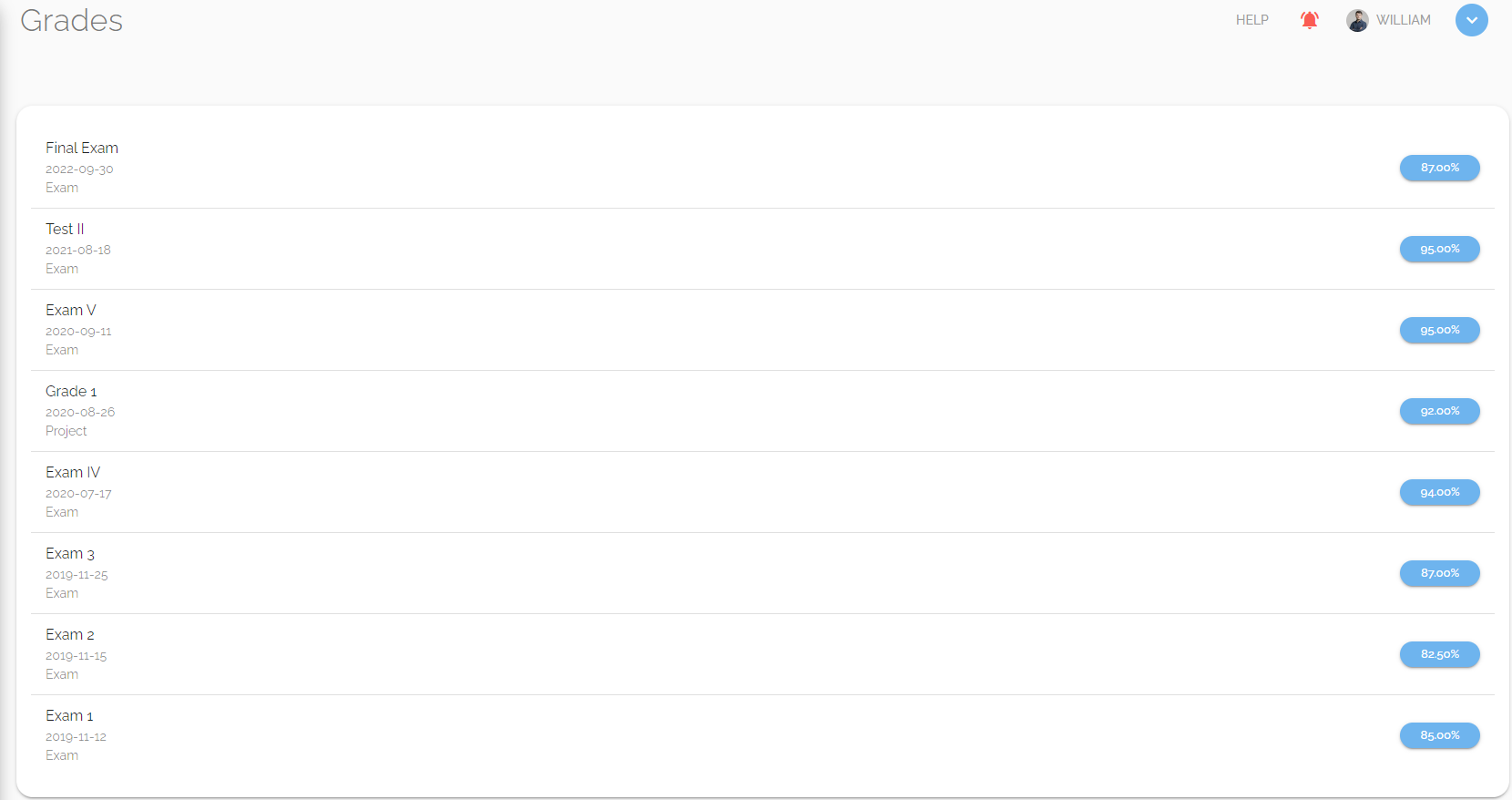 If your administrator has given you viewing privileges, you will be able to see a tab on your left navigation menu. On your Grades page, you will be able to see a list of grades submitted on your behalf.

My Data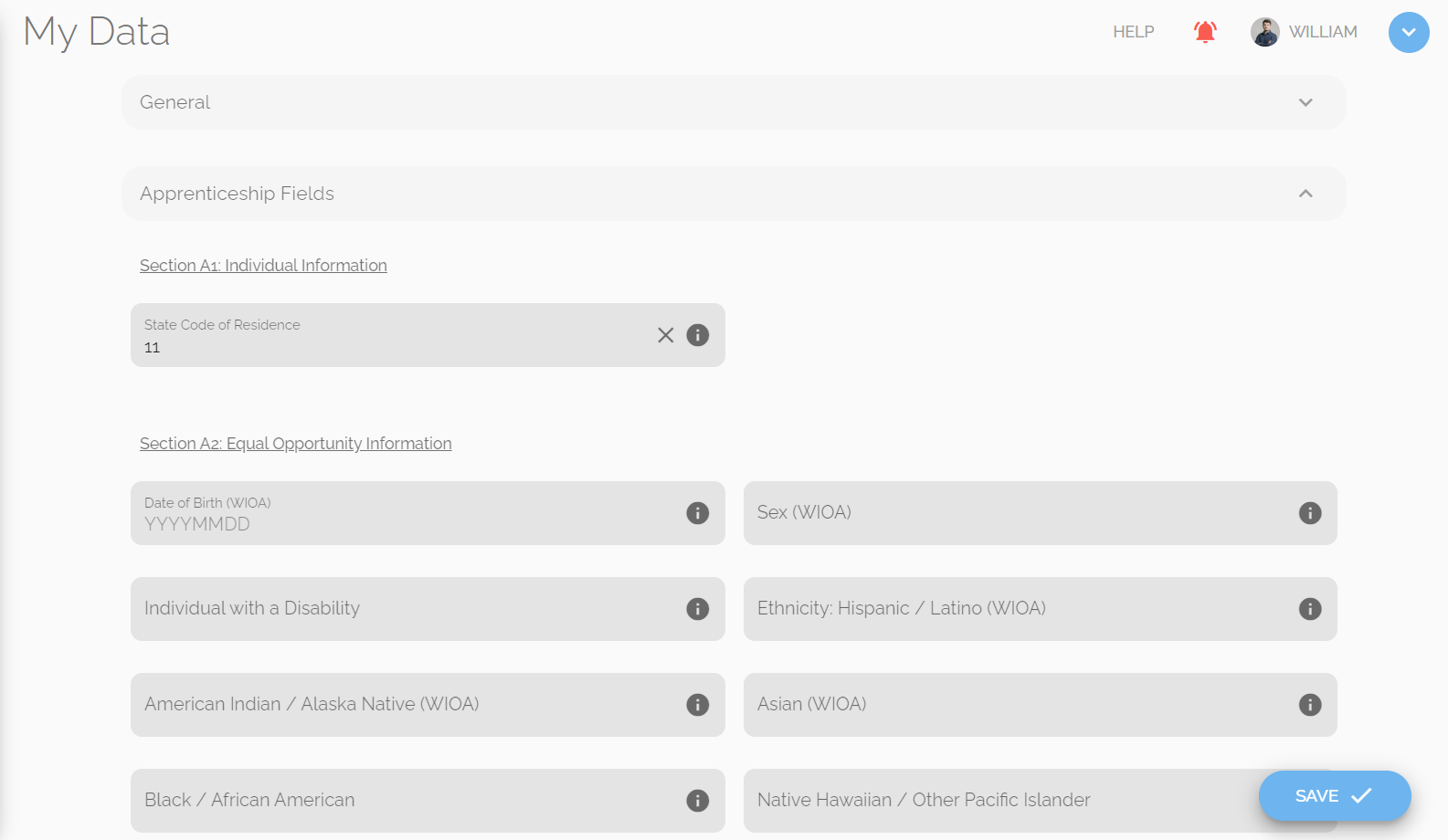 On your My Data page (if your administrator has enabled view/edit access), you can see information captured on you. This data is stored for compliance purposes, and you may be asked at times by your administrator to update it. You can update it by changing the information in the field and then clicking the blue Save button.